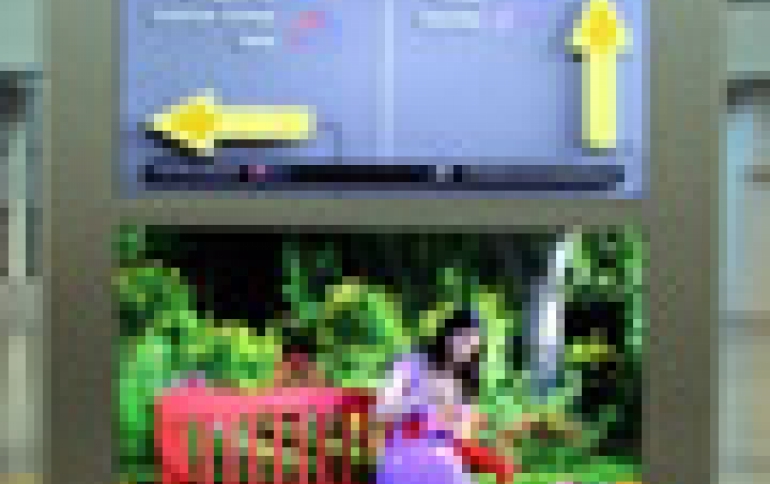 LG Introduces 84-inch 'Ultra HD' Digital Signage Display
LG Electronics has introduced the first "Ultra High-Definition" 4K digital signage display, the commercial version of the LG 84-inch class Ultra HD TV. The LG 84-inch class Ultra HD Signage Display is the flagship of LG's 2013 line of LED large-screen monitors that will be demonstrated at this month's Digital Signage Expo 2013. Boasting four times the screen resolution (3840 x 2160 pixels) of traditional HD displays, the display has been already installed at Las Vegas' McCarran International Airport.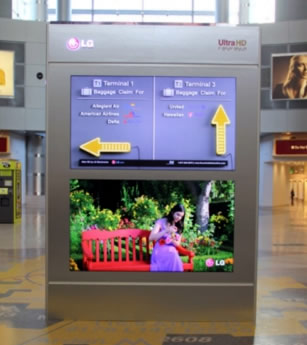 The Ultra HD commercial widescreen LED screen (model 84WS70MS-B) provides wide viewing with a high quality featuring Ultra HD technology with 8 million pixels. The Ultra HD 2160p display has a bezel width of just 27.9mm, allowing displays to be arranged side-by-side. It can be mounted in portrait or landscape mode for optimal use in commercial applications.
Integrated into all LED models, including the 84-inch class Ultra HD screen, is LG's In Plane Switching (IPS) panel technology, which provides a temperature tolerance of up to 230 degrees Fahrenheit (110 degrees Celsius) helping alleviate a common problem with screens overheating. The monitor also includes Smart Energy Saving, Temperature Sensor, Auto Brightness Sensor, ISM Method and Key Lock.
A slot at the rear of the display offers the opportunity to attach an external media player. Additionally, the display offers an interface through its use of LG's proprietary web-based management platform, SuperSign Elite-w Lite, allowing integrators to pre-load templates to create and run dynamic content, coupled with quick navigation through menus to control networked displays and simultaneously run media files.