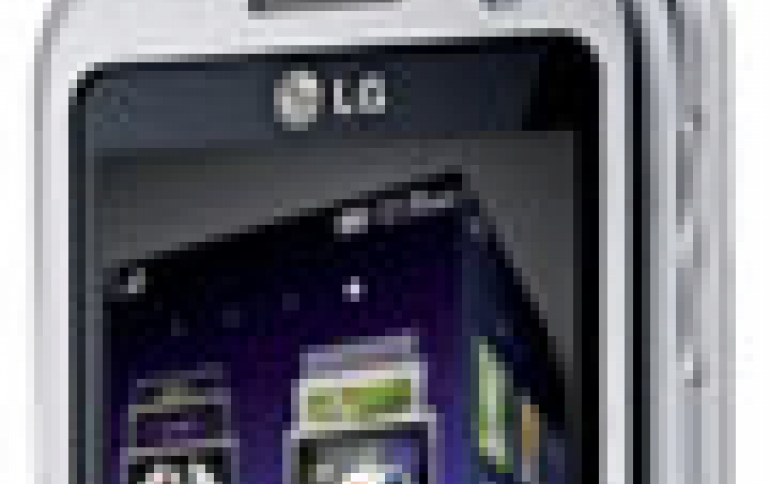 LG Launches ARENA Multimedia Flagship Phone for 2009
LG Electronics today announced the launch of LG ARENA (LG-KM900), the company's flagship multimedia phone at the World Mobile Congress 2009. ARENA is packed with multimedia features and a totally new 3D UI of the next generation. It is the first and currently the only multimedia phone for the global market to use Dolby Mobile from Dolby Laboratories for enhanced sound of video and music content.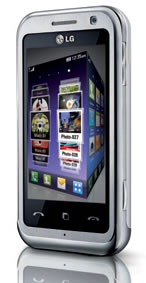 "What really makes ARENA special is its intuitive 3D S-Class UI, which is unlike anything that has appeared on a phone before," said Dr. Skott Ahn, President & CEO of LG Electronics Mobile Communications Company. "We surveyed consumers and found that they were unhappy with current interfaces. They wanted a simple, fast and fun way to use multimedia and other features, but also an experience that was dynamic and interesting. We?ve done this so well with our brand new S-Class UI that it will set new standards for handsets in both functionality and fun."
The 3D S-Class UI makes its debut with ARENA and will be featured in other premium LG models launching later this year. This includes touch-based 3D menus for searching through contacts and multimedia content as well as scrolling through entertainment options by dragging a finger across the phone's screen. At its core is a cube layout that provides four customizable home screens that provides fast access to all features by flipping the cube with the flick of a finger. With multiple faces, the cube allows for four times more shortcuts than a single screen, making menus easier to access.
Also created with fast access in mind are ARENA?s Elastic Lists, which make it easier to browse through contacts and other catalogued information. When touched, list items stretch like a rubber band to provide more detailed information, options or easy editing. This eliminates the extra step of switching to a new screen, saving time and making it easier to browse to other choices as well.
The 3D graphics of the ARENA phone are powered by an AMD processor.
A built-in FM transmitter means ARENA can play music wirelessly through a car or home stereo.
LG ARENA?s 3.0-inch full touchscreen display WVGA resolution, which is four times sharper than QVGA. The display allows you to watch DVD quality DivX or Xvid movies on-the-go.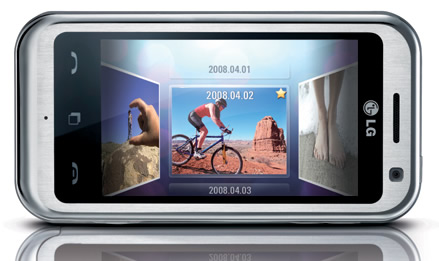 D1 recording capability captures DVD-resolution video. For added fun, ARENA can record 120 frames per second slow motion video.
ARENA comes with a 40 GB of storage, including 8GB of internal memory and a micro SD slot. The battery provides up to 30 hours of MP3 playtime and 300 hours of standby time.
The included five megapixel camera can be set for auto or manual focus.
Connectivity options include 3G HSDPA 7.2 networks and Wi-Fi. The phone also supports Google Mobile Service which includes Google search, Google Maps, Gmail, YouTube and Google Blogs. A-GPS and geo-tagging are also possible.
The ARENA will initially be available in Europe in March and then globally.
LG-GM730 Smartphone
LG also announced the LG-GM730, its newest handset in LG?s smartphone line-up.
The LG-GM730 is the newest phone among LG?s easy-to-use smartphones line-up to come. The company has recently signed a special contract with Microsoft, allowing them to be the first manufacturer of a phone with the new version of Windows Mobile. LG said that it would make Windows its primary operating system for its smartphones. Available in the first half of 2009 on Windows Mobile 6.1, LG will add Windows Mobile 6.5 version to their portfolio in the second half of 2009.
On top of Windows Mobile, the LG-GM730 will provide LG?s S-Class User Interface.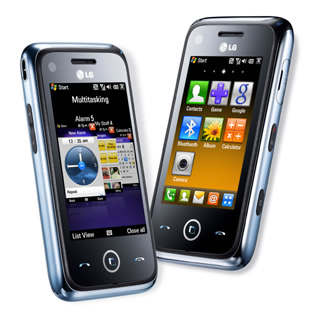 The new phome also offers easy setup for e-mail and comes with Internet Explorer 6.0 installed.
The company did not provide more technical specifications at Barcelona. The LG-GM730 will be available for purchase in the first half of 2009.
LTE-Enabled Mobile Device
Finally, LG will demonstrate the first data card based on 3GPP Long Term Evolution (LTE) technology standards during the GSMA Mobile World Congress 2009. The demonstration of this device, which LG developed independently, will take place in Hall 8 at Fira de Barcelona on February 18.
LG?s data card will be using LG?s own developed modem chip solution. The modem chip is the most crucial component required to create a viable 4G handset with LTE technology, the leading candidate to become the fourth generation mobile phone technology standard. Handsets based on the LTE standard can theoretically support maximum wireless download speeds of 100 megabits per second (Mbps) and upload speeds of 50 Mbps when using 2 antennas.
For its demonstration, LG will connect three data cards to 3 different devices. These devices include a laptop, a netbook and a prototype mobile internet device (MID). In addition, LG will display an early smartphone prototype with LTE built into the device. The four devices will run applications such as HD video streaming, video conferencing, Video on Demand and internet browsing.
The chip that LG will demonstrate can achieve wireless download speeds of 60 Mbps and upload speeds of 20 Mbps. The fastest phones currently on the market use HSDPA technology and download at a maximum speed of 7.6 Mbps.