LG To Showcase Audio Lineup With Smart Features At CES
In less than three weeks, LG Electronics will be showcasing its latest audio video lineup at the 2014 International Consumer Electronics Show (CES) in Las Vegas. The selection of products includes the latest iteration of the space-saving SoundPlate (Model LAB540W), a Wireless Audio System (Model NP8740) and the sleek Sound Bar (Model NB5540).
The LAB540W, better known as the SoundPlate, is the latest arrival to a new category of slim audio devices to accompany today's flat screen TVs. Rising a mere 39.5mm above its base, this device is space efficient and can be placed directly underneath a variety of 32- to 55-inch TVs to minimize clutter. The new model is equipped with a 4.1 channel, 320 watt sound system and an external wireless subwoofer. This compact unit projects full-bodied audio in multiple directions.
The SoundPlate also serves as a connectivity portal and features a built-in 3D Blu-ray player along with LG Smart TV functionality, transforming any flat screen TV into a Smart TV. Additionally, a second screen device can be used to wirelessly stream content to the LAB540W overa local Wi-Fi network or via Bluetooth.
LG's Wireless Audio System gives users the power to choose from virtually limitless home audio configurations. This is possible because the NP8740 runs the latest mesh network technology, which includes dual band Wi-Fi support (2.4/5GHz) to deliver high quality streaming music throughout the home. Each wireless speaker sends the sound out in multiple directions.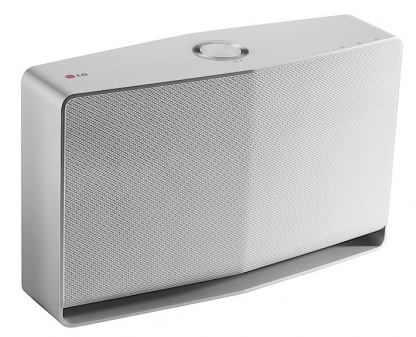 Several speakers can be set up in any combination of rooms, connecting an entire house under a single system. The embedded mesh network technology also makes it possible to choose between playing the same song throughout the home (Party Mode), or different songs through each speaker (Personal Mode). What's more, the NP8740 can connect to other audio systems.
The Wireless Audio System allows digital audio collections to be accessed without a home network while a downloadable app turns a smartphone into a master control unit. The interface even lets users stream audio from online sources. Overall clarity is enhanced by a dual-tweeter arrangement and 24 bit/192kHz.
LG's Sound Bar options have been designed to complement a variety of TV sizes and styles.The NB5540, for instance, is a beautiful match for modern thin-bezel TVs thanks to its minimalist design and polished dark silver finish. The system features 4.1 channels and 320 watts of output. The NB5540 has a two forward-facing and two rear-facing channel configuration and also employs a Hi-Fi DAC and Analog Class D amp.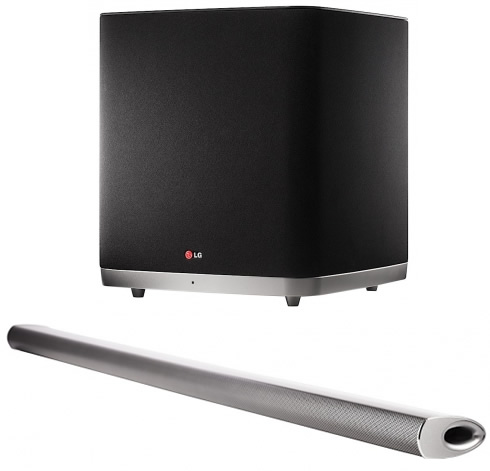 The NB5540 supports HDMI with Audio Return Channel (ARC), enabling it to connect to a TV with a single cable. The system is also Bluetooth enabled, facilitating wireless audio streaming from smart devices such as a Smart TV or smartphone. The NB5540 can be wall-mounted or placed anywhere in the room.