Microsoft Brings Cortana, Xbox One App New Spartan Browser To Windows 10 Devices
Microsoft impressed an audience of journalists today at its Windows 10 event, where the company unveiled plans to bring Cortana to Windows 10, the new "Spartan" web browser, the Xbox app on Windows 10 and an entirely new holographic computing experience though the HoloLens headset.
Microsoft's team shared more Windows 10 experiences and how Windows 10 will inspire new scenarios across the broadest range of devices, from big screens to small screens to no screens at all.
Windows 10 is the first step to an era of a "more personal computing." With Windows 10, Microsoft is trying to movw Windows from its heritage of enabling a single device – the PC – to a world that is more mobile, natural and grounded in trust. Technology should be out of the way and your apps, services and content should move with you across devices. Microsoft also believea that interacting with technology should be as natural as interacting with people – using voice, pen, gestures and even gaze.
Microsoft wants to redefine the relationship we have with customers. The company announced that a free upgrade for Windows 10 will be made available to customers running Windows 7, Windows 8.1, and Windows Phone 8.1 who upgrade in the first year after launch.
This is more than a one-time upgrade: once a Windows device is upgraded to Windows 10, Microsoft will continue to keep it current for the supported lifetime of the device – at no additional charge. With Windows 10, Microsoft will deliver new features when they're ready, not waiting for the next major release. The company thinks of Windows as a Service.
Microsoft also talked about universal Windows apps that work across the entire device family. These would allow developers build one app that targets the broadest range of devices – including the PC, tablet, phone, Xbox, the Internet of Things, and more.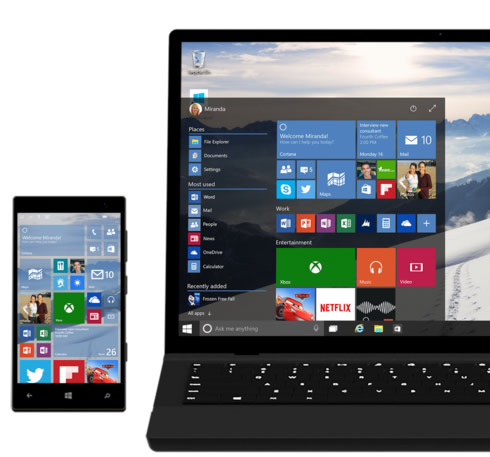 Since Microsoft launched the Windows Insider Program in September, the company has been joined by 1.7 million Windows Insiders, who have delivered over 800,000 pieces of feedback. The company today provided new details on the experience coming to Windows 10, including:
Cortana, Microsoft's personal digital assistant, comes to PC and tablet, for the first time with Windows 10. Cortana learns your preferences to provide relevant recommendations, fast access to information powered by Bing, and reminders. Interaction is natural and easy via talking or typing, with advanced features to control Cortana. Cortana on Windows 10 wil lhave a home page showing intersting info about the PC user. It can also looks on the PC's hard drive to gather and present relevant answers, photos, Power Poing presentations e.t.c. She can even play users' favorite music or write an email and send it - all through natural interaction (talk).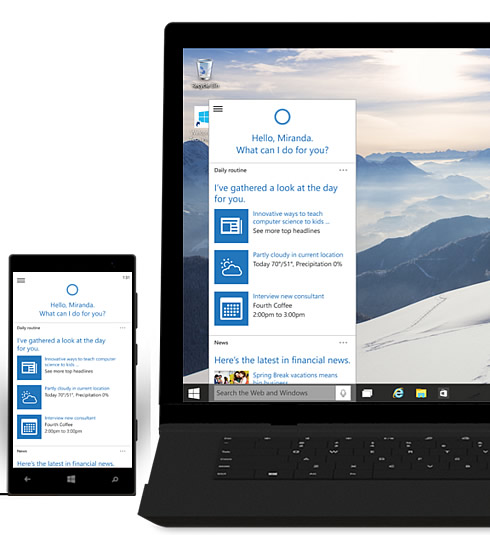 Microsoft also unveiled Windows 10 for phones and small tablets (less than 8 inches), which features a familiar experience that interacts with a PC. Its UI shows recently installed apps and has a customized background. Users can talk to their phones and let it compose a text message. in addition, users will be able to switch from cellular to Skype on the fly for their text messaging conevrations.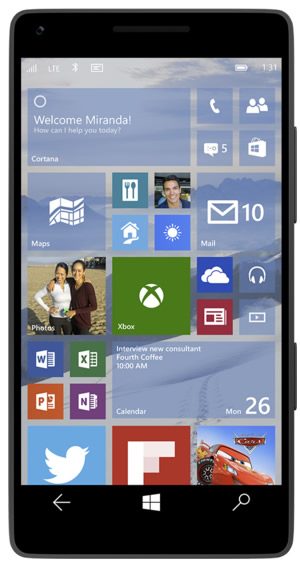 Office universal apps on Windows 10 offer a consistent, touch-first across phone, tablet and PC with new versions of Word, Excel, PowerPoint, OneNote and Outlook. Designed from the ground up to run on Windows, you can create and edit Word documents, annotate slides in real-time with new inking features or present PowerPoint presentations, and with new touch-first controls in Excel you can create or update spreadsheets without a keyboard or mouse.
Office docs will also roam across devices letting you continue editing a file right from where you left it. It also supports Miracast and wireless printing.
New universal applications will ship with Windows 10, offering new experience applications, consistent across the device continuum, for Photos, Videos, Music, Maps, People & Messaging, and Mail & Calendar. These built-in apps have an updated design that look and feel the same from app to app and device to device. Content is stored and synced through OneDrive, enabling you to start something on one device and continue it on another.
Code-named "Project Spartan," the next generation browser was built with greater interoperability, reliability and discoverability, with a new look and feel built just for Windows 10 and a new rendering engine. Advanced features include the ability to annotate by keyboard or pen directly on the webpage and easily share with friends, a reading view that is distraction free, PDF integration, displaying the article in a simplified layout for a new reading experience for Web articles online and offline, and the integration of Cortana.
Xbox Live and the new Xbox App bring new game experiences to Windows 10. Xbox on Windows 10 lets gamers access the best of the Xbox Live gaming network on both Windows 10 PCs and Xbox One. The Xbox app on Windows 10 will feature "My games", "My Friens list", "Messages" and the "Activity feed".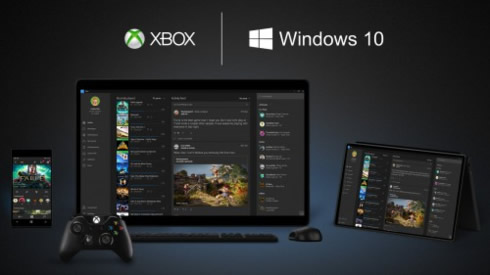 Players can capture, edit and share their greatest gaming moments with Game DVR, and play new games with friends across devices. Gamers will be also able to capture the last 30 sec of evrey gameplay in advance.
Games developed for DirectX 12 in Windows 10 will see improvements in speed, efficiency and graphics capability. The DX12 gives developers direct control to GPu and CPU, while it also cuts the power consumption in the half for mobile devices, compared to DX11.
Players will also be able to play games on their PC, streamed directly from their Xbox One consoles to their Windows 10 tablets or PCs, within their home.
Unity has adopted DX12.And Microsoft announced that the "Fable Legends" game is coming later this year in Windows 10 PC and Xbox One.
In addition, Windows 10 support the Continuum Mode: On 2in1 devices, Windows 10 will move easily between keyboard/mouse and touch/tablet as it detects the transition and conveniently switches to the new mode.
Microsoft is also bringing two new devices to the Windows 10 family: Microsoft Surface Hub and Microsoft HoloLens.
Microsoft demonstrated the first holographic computing platform – complete with a set of APIs that enable developers to create holographic experiences in the real world. With Windows 10, holograms are Windows universal apps and Windows universal apps can work as holograms, making it possible to place three-dimensional holograms in the world around you to communicate, create and explore in a manner that is far more personal and human.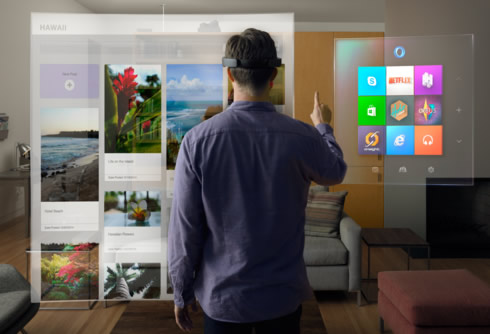 Showcasing the possibilities of holograms in Windows 10, Microsoft HoloLens is the first untethered holographic computer – no wires, phones or connection to a PC needed. HoloLens is a holographics computer, available in the Windows 10 time frame. It features see-through holographic HD lenses, spatial sound, advanced sensors, a built in CPU/GPU and a holographic processing unit (HPU), which processes info from sensors in real time.
Microsoft HoloLens allows you to view holograms in high definition and hear them in surround sound, even if they are behind you. And with advanced sensors, Microsoft HoloLens can see what you are looking at and understand what you are communicating with your hands and voice.
Microsoft also announced Holostudio, a digital workshop for creating 3D objects through HoloLens. Through an on stage demonstration, Microsoft created a hologram of a quadcopter within a few minutes.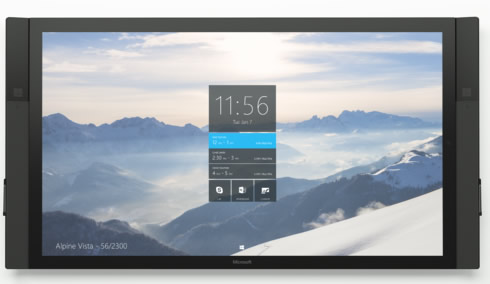 From no screen to 84", with Microsoft Surface Hub the company introduced a new large screen 4K device designed for the way teams in the workplace naturally interact and come together. Custom versions of Skype for Business and OneNote are integrated into the Windows 10 shell to take full advantage of the built in cameras, sensors and mics, as well as the new screen that was built from the ground up for ink and touch. The Surface Hub features digital white boarding, instant remote conferencing, the ability for multiple people to share and edit content on the screen from any device, and a trusted platform for large-screen apps. it will be available in two sizes – 55" and 84" .
Microsoft also mentioned Windows RT, the company's operating system that ran on the ARM chips typically used in cell phones.
During a Q&A with reporters, Microsoft said that it is "working on an update for Windows RT as well."