Microsoft Unveils First Windows Mixed Reality Dev Kit
Today, at the Game Developers Conference (GDC) in San Francisco, Microsoft shared the next step in their mixed reality journey. Starting this month the company will begin to ship developer edition headsets created in partnership with Acer.
Microsoft is trying to make Windows 10 a complete platform across a broad range of mixed reality devices. Last year, the company announced partnerships with device makers including Acer, ASUS, Dell, HP, Lenovo, and 3Glasses on a wide range of headsets that pair with Windows Mixed Reality-ready PCs. These are the first mixed reality headsets to deliver built-in inside-out tracking, meaning there is no need to purchase or install external trackers or sensors in the wall. Moreover, you don't need to bother with a complicated setup, just plug and play.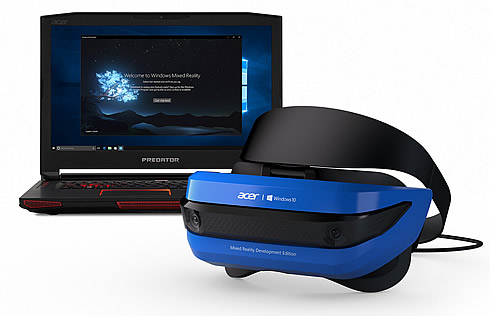 In the following months, the Acer Windows Mixed Reality Development Edition headset will be given to game developers who attended Microsoft's Windows Mixed Reality session at GDC. Game developers interested in building content for Windows Mixed Reality can sign up for ID@Xbox.
The specifications for the Acer Windows Mixed Reality Development Edition headset include:
Two high-resolution liquid crystal displays at 1440 x 1440
Display refresh rate up to 90 Hz (native)
Single cable with HDMI 2.0 (display) and USB 3.0 (data) for connectivity

AT GTC, Microsoft had on display a prototype version of Acer's headset, which used cameras in order to track the user without an external sensor (built-in inside-out tracking).
The headset didn't have onboard speakers or headphones, though its specifications call for an onboard audio jack that would let users plug in headphones.
Unlike the HoloLens, the Acer hardware won't support gesture tracking. Navigation inside mixed reality, in that case, will require another form of input.
Windows Mixed Reality experiences will also light up on other devices over time, beyond desktop and Microsoft HoloLens. Microsoft's plan is to bring mixed reality content to the Xbox One family of devices, including Project Scorpio, in 2018.