Moto 360 leads The First Wave of Android Wear Devices
Nearly 5 million smart and basic wearable bands shipped in Q3 2014, with total unit shipments increasing 37% quarter on quarter as Android Wear made its mark for the first time, according to data released by Canalys. Motorola Mobility's Moto 360 was by far the most successful of the initial Android Wear devices, accounting for over 15% of the smart band market according to Canalys estimates. Despite being supply-constrained, its appealing design helped it to out-ship other Android Wear products. LG has responded to early interest in the Moto 360 by quickly adopting a circular display with the G Watch R. Meanwhile, Samsung remained the overall smart band market leader, and the company has already begun to experiment with larger display sizes and cellular connectivity with the Gear S, its sixth smart band.
Android Wear will be fundamental to the development of the market, as it is poised to be one of the two dominant wearable operating systems outside of China, alongside Apple's Watch OS. But Google will need to redesign the Android Wear user interface before the platform can achieve its true potential.
"The announcement of the Apple Watch late in the quarter has likely had an effect on sales of existing devices, as some consumers will choose to wait for Apple's wearable," said Canalys Analyst Daniel Matte. "The smart band market was flat between Q2 and Q3, but with an installed base of over 1.8 billion Android smart phones, there is a huge potential market of Android users not considering an Apple Watch."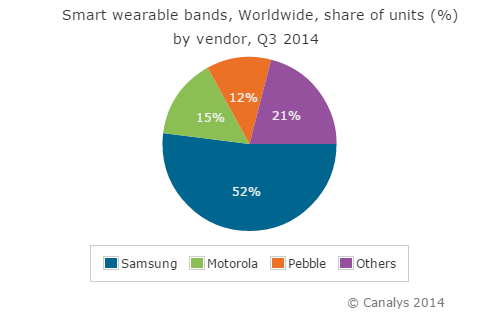 Fitbit and Jawbone held onto their first and second place positions, respectively, in the basic band market for the quarter, and both have just announced new products. Garmin passed Nike to take third place in shipments, while Xiaomi and Huawei also overtook the one-time market leader and rounded out the top five.
"Low-end basic bands providing simple activity tracking functionality are becoming increasingly commoditized, and will flood the market heading into the holidays, especially in China," said Canalys Analyst Jingwen Wang. "To combat this, Fitbit, Jawbone and others have attempted to make basic bands smarter, adding various smart watch features and increasing the sophistication and integration of sensors."
Google Fit, Microsoft Health and the Samsung Digital Health Platform have all recently been announced in response to Apple's HealthKit. While the new Microsoft Band does not have strong hardware appeal, Microsoft's cross-platform cloud services approach is a wise strategy, and the company is importantly staking its relevance early in a new market. Canalys expects developers to eagerly embrace Apple's WatchKit SDK, also released today.