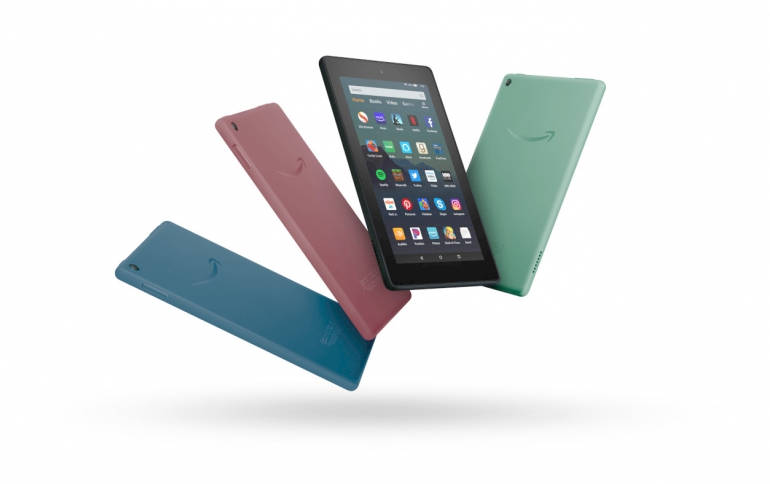 New Amazon Fire 7 Comes with a Faster Processor, 2x the Storage, and Alexa
Amazon today announced the next generation of its Fire 7 tablet, featuring a faster processor; 16 GB of internal storage and hands-free access to Alexa.
Fire 7 is still cost you $49.99 and is available in Black and 3 new colors: Sage, Plum, and Twilight Blue. As an introductory offer, consumers who purchase a new Fire 7 before June 6 will receive a $10 credit to buy popular apps and games from the Amazon Appstore.
The new Fire 7 is powere by a quad-core 1.3 GHz processor, it is available with 16 GB or 32 GB of internal storage, and supports up to 512 GB of expandable storage via microSD card.
When connected to Wi-Fi, you can ask Alexa to check the Mariners score, get a recipe, watch a movie, and more – using just your voice, even when your screen is on standby. You can also toggle Alexa on or off in your device settings.
Amazon's lightest tablet features a 7" IPS display and according to Amazon, it is 2x as durable as the latest iPad mini, while it also stands up against drops, tumbles, spills, and everyday wear and tear.
The tablet's battery delivers up to 7 hours of reading, listening to music, watching TV shows or movies, and browsing the web.
You can video also chat with friends with the HD 720p front-facing camera and fast Dual-band Wi-Fi connectivity.
Amazon-exclusive features include ASAP, For You, X-Ray, Second Screen, Amazon FreeTime, Family Library, Blue Shade, On Deck, Prime Video downloads, and more.
The new Fire 7 is available today for pre-order at www.amazon.com/fire7 and will begin shipping June 6. Fire 7 cases are available in Charcoal Black, Sage, Plum, Twilight Blue, and Desert Orange and can stand in both landscape and portrait orientations— $24.99.
In addition to the Fire 7, Amazon today introduced the new Fire 7 Kids Edition, available for pre-order today for $99.99. This tablet is featuring a new kid-proof case with an adjustable stand for hands-free viewing. It comes with a 7" IPS display, a faster processor, and 16 GB of storage with up to 512 GB of expandable storage via a microSD card slot.