New Firefox Beta Is Faster, Simplified and Easier to Customize
Mozilla has just released a new beta of the Firefox 29 browser, which introduces an improved sync feature powered by Firefox Accounts, a new customization mode, a new Firefox menu and streamlined user interface. Firefox 29 is possibly Mozilla's biggest browser remake since 2011.

WIth the new browser, you can test the new Firefox Sync on Windows, Mac, Linux and Android by creating an account in order to take your Firefox with you anywhere. The new Firefox Sync makes it easier to setup and add multiple devices while delivering end-to-end encryption.
Mozilla's engineers have aslso worked on a new customization mode. To enter customization mode click the new "Menu" button and then click "Customize." From there, you can manually drag and drop your favorite feature, add-on or tool anywhere in the browser based on your preferences: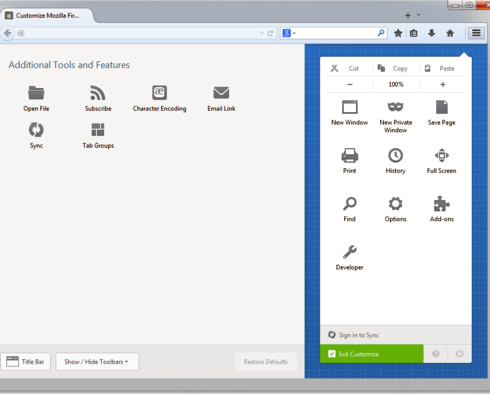 In addition, the new menu panel includes all of your browser controls, features and add-ons in one space. You can find tools like copy/paste, print, full page, save and more. When you download a new Firefox Add-on, you will be able to add its icon in the same new menu panel, giving add-ons a permanent place in your browser.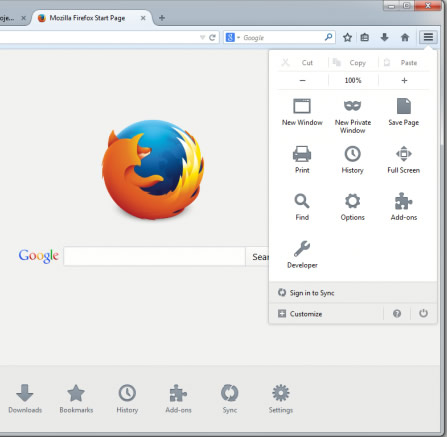 Mozilla's engineers redesigned the overall look and feel of Firefox. They have changed the tab structure and functionality in Firefox to enable you to focus on your Web content. Tabs have a more streamlined shape, sit higher up in the browser and tabs that are not in use have been visually de-emphasized. The bookmark manager has been also moved next to the bookmark star in your Firefox toolbar to make it easy to save favorite sites for one click access.