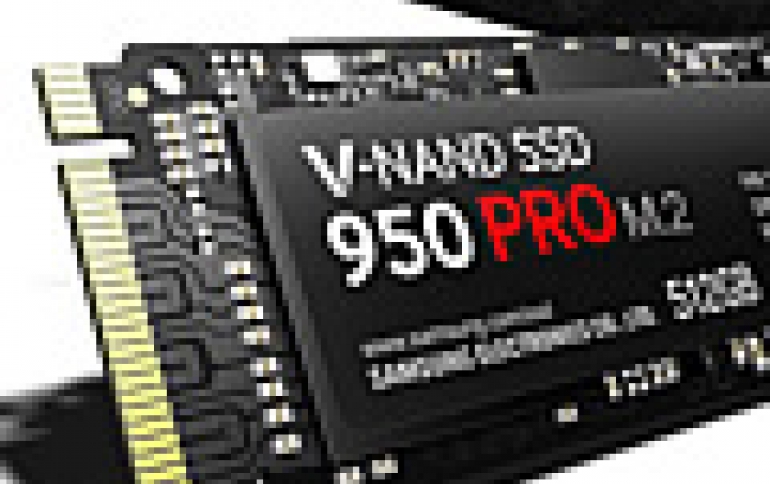 New Samsung 950 PRO SSD Reads At 2500MBps
Samsung Electronics today introduced the Samsung 950 PRO solid state drive (SSD), based on vertical NAND (V-NAND) technology and designed for high-performance consumer and business laptops and PCs. The drive's M.2 form factor means it can be isntalled in both notebook PCs and workstations. It is Samsung's first consumer-ready Non-Volatile Memory Express (NVMe) M.2 form factor SSD with vertical NAND (V-NAND) technology; supporting the Peripheral Component Interconnect Express (PCIe) 3.0 interface. With the introduction of NVMe, the first protocol optimized for SSDs, users of the Samsung 950 PRO will benefit from improved performance and power saving which can help increase battery life and potentially reduce operating costs. The compact M.2 2280 form factor ensures compatibility with next-generation desktop and mobile platforms that support the M.2 PCIe slot and interface.
Featuring the PCIe Gen.3 x4 interface and supporting the NVMe protocol, the Samsung 950 PRO offers improved random and sequential performance over Serial Advanced Technology Attachment (SATA) interface drives utilizing the legacy Advanced Host Controller Interface (AHCI) protocol. Users of applications that benefit from high input/output operations per second (IOPS) will experience up to four times faster performance than with traditional SATA SSDs.
The 950 PRO will be available in 512 gigabyte (GB) and 256GB storage capacities. The 512GB version delivers sequential read/write speeds of up to 2,500 MB/s and 1,500 MB/s. Random read performance is up to 300,000 IOPS, with write speeds of up to 110,000 IOPS. It features Samsung's second generation MLC V-NAND 32-layer 128Gb die with UBX controller and magician software.
The drive was built to last, with AES 256-bit Full Disk Encryption to protect data and Dynamic Thermal Guard, which can protect the device and data in inclement weather from 0 to 70 degrees Celsius. It can also withstand physical shock of up to 1500G/0.5ms and vibrations up to 20G.
The 950 Pro is built with Samsung's 2nd generation 32 layer 128GB die manufacturing process, the company's third generation process which is currently in the "ramping up" stage uses 48 layers.
 
MZ-V5P256BW
MZ-V5P512BW
General Feature
Application
Client PCs
Capacity
256 GB (1 GB=1 Billionbyte by IDEMA)*
512 GB (1 GB=1 Billionbyte by IDEMA) *
Form Factor
M.2
Interface
PCIe 3.0 x4 (up to 32 GB/s) NVMe 1.1
Dimension (WxHxD)
Max. 80.15 x 22.15 x 2.38 (mm)
Weight
Max. 10g
Storage Memory
Samsung V-NAND
Controller
Samsung UBX controller
Cache Memory
Samsung 512 MB Low Power DDR3 SDRAM
Special Feature
TRIM Support
TRIM Supported
S.M.A.R.T Support
S.M.A.R.T Supported
GC (Garbage Collection)
Auto Garbage Collection Algorithm
Encryption Support
AES 256-bit for User Data Encryption
TCG Opal Family Spec and eDrive(IEEE1667) to be supported by FW update
WWN Support
N/A
Device Sleep Mode Support
Yes
Performance
Sequential Read
Up to 2,200 MB/sec
Up to 2,500 MB/sec
Sequential Write
Up to 900 MB/sec
Up to 1,500 MB/sec
Random Read (4KB, QD32)
Up to 270,000 IOPS
Up to 300,000 IOPS
Random Write (4KB, QD32)
Up to 85,000 IOPS
Up to 110,000 IOPS
Random Read (4KB, QD1)
Up to 11,000 IOPS
Up to 12,000 IOPS
Random Write (4KB, QD1)
Up to 43,000 IOPS
Up to 43,000 IOPS
Environment
Average Power Consumption (system level)
Average: 5.1 Watts
Watts Maximum: 6.4 Watts (Burst mode)
Average: 5.7 Watts
Maximum: 7.0 Watts (Burst mode)
Power consumption (Idle)
Max. 1.7 Watts
Max. 1.7 Watts
TRIM Support
1.5 Million Hours Reliability (MTBF)
Operating Temperature
0 °C to 70 °C (Measured by SMART Temperature. Proper airflow recommended)
Shock
1500G , duration 0.5m sec, 3 axis
Software
Management SW
Magician Software for SSD management
Accessories
Installation Kit
Not Available
Warranty
5 Year Limited Warranty or 200 TBW Limited Warranty
5 Year Limited Warranty or 400 TBW Limited Warranty
The NVMe driver produced by Samsung is currently supported on Windows 7, Windows 8.1, and Windows 10. Support for Windows Server and Linux is set to arrive shortly, the company said.
Unlike last year's 10-year warranty, the 950 Pro only offers a five year warranty - up to 200 terabytes written (TBW) for the 256GB and 400TBW for the 512GB. The 950 PRO will be available beginning in October 2015, with an MSRP of \$199.99 for the 256GB capacity and \$349.99 for the 512GB capacity.
On Tuesday, Samsung also announced the new brand name "V-NAND SSD" for its diverse three-dimensional V-NAND products to promote the high performance of its products.
Among the first uses of 256Gbit 3rd gen V-NAND will be to expand the capacity of Samsung's current product lineups. The 850 lineup, which Samsung will continue to produce as their leading 2.5" SATA SSD, recently received a boost from 1TB to 2TB. Come next year, Samsung will be transitioning the 850 Pro lineup from 2nd gen to 3rd gen V-NAND, and in the process releasing a 4TB 850 Pro.
Meanwhile the M.2 850 EVO, which currently tops out at 512GB, will be getting its own upgrade to 1TB via 3rd generation TLC V-NAND.
The newly announced 950 Pro will also get a capacity bump in 2016. A 1TB model will be released next year, utilizing the 256Gbit V-NAND MLC to double the capacity of the drive.
For enterprise V-NAND drives, the PM1725, Samsung's PCIe card SSD, will be utilizing 3rd gen V-NAND, combining 8 lanes to offer what is expected to be 1 million read IOPS.
As for Samsung's Enterprise drives, the 863 datacenter drive family will also be getting the 3rd gen V-NAND upgrade.
Samsung said it estimates that demand for solid-state drives in 2015 will hit 84 exabytes, with the demand predicted to hit 253 exabytes by 2020.