New Windows Phones Coming To Stores Today
Today, Microsoft celebrated the availability of new Windows Phones with a launch event in New York City. The
Samsung Focus S and Samsung Focus Flash
are the newest additions to the Windows Phone portfolio, joining the
HTC Radar 4G
, available at T-Mobile USA. Microsoft designed Windows Phone around one simple concept: People belong at the center of the phone experience. To demonstrate this approach, Microsoft put real people inside a giant six-story phone in New York City's Herald Square to bring to life the phone's key features and experiences. A life-size "Plants vs. Zombies" battle highlighted the phone's Xbox LIVE gaming experience, while Far East Movement brought the Music + Video Hub to life with a live lunchtime concert for hundreds of fans in. The theme of the day - connecting people - was underscored when a New York man proposed to his girlfriend from inside the Me Tile of the giant phone.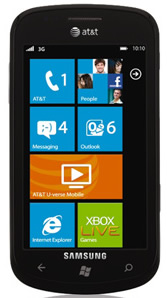 All the new Windows Phones in the U.S. are capable of 4G speeds, have front- and rear-facing cameras, and offer a range of price points. People who purchase the HTC Radar 4G at T-Mobile or the Samsung Focus Flash at AT&T will receive a free $25 prepaid app card. This card may be used to shop from the catalog of 35,000-plus apps and games from Windows Phone Marketplace such as Angry Birds, Facebook, ESPN, and, launching today, Spotify, the popular digital music service
The Samsung Focus S builds on the Samsung Focus. Also available from AT&T for $199.99, it features a 4.3-inch Super AMOLED Plus display, a 1.4GHz processor, 4G-capable speeds and a thin profile at 8.55 millimeters; it also includes an 8-megapixel camera.
In addition, the Samsung Focus Flash is designed to hit the market at $49.99. Its 3.7-inch Super AMOLED screen will both fit in pockets and be light on pocketbooks, with the full power of Windows Phone 7.5 inside. As fast and lightweight as it is compact, it runs a 1.4GHz processor and has a 5-megapixel camera.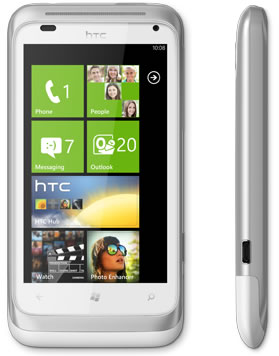 Crafted from a single piece of aluminum, the HTC Radar 4G from T-Mobile offers a 3.8-inch screen. Running on America?s Largest 4G Network, the HTC Radar 4G is available at T-Mobile stores in the U.S. for $99.99 after a $50 mail-in rebate card with a two-year service agreement.
Also coming soon is the HTC TITAN from AT&T. With the largest screen of any Windows Phone, the TITAN has been designed fort for multitasking and entertainment. It sports a 4.7-inch screen and a 9.9-millimeter design. The TITAN is 4G-capable and is equipped with a 1.5GHz processor and an 8-megapixel camera with dual LED flash.
Windows Phones are together social media updates from Facebook, Twitter and LinkedIn and recent conversations ? calls, texts, email messages, Windows Live instant messages and Facebook chats ? all in one place. Microsoft's mobile OS also makes it easier for users to discover new apps and get more from the apps they already have by surfacing apps as part of search results and connecting them to common tasks on the phone.
Fast Web browsing is ensured with Internet Explorer Mobile and the new Local Scout for recommendations on restaurants, shopping and events closest to each user.