Nokia Music Coming On Windows 8
Today sees the arrival of a new Nokia Music app for the desktop and tablet version of Windows 8, designed to allow Nokia Music+ subscribers to get even more out of the service. Within the app, screens provide access to artist information, recent mixes and more as you swipe through the app.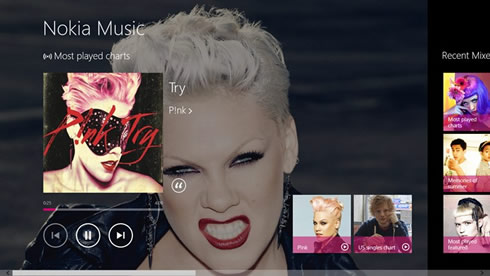 Here's a list of some of the main features of Nokia Music for Windows 8:
- 7 Day trial of NM+, with an in-app upgrade path (30sec clip mixes outside of the trial period)
- 100's of curated mixes from Nokia experts and international artists
- Listen to all the MP3's in your 'My Music' library via the app
- Mix recommendations based on the music playing, for both mixes and your own collection
- Artist Mix - see up to three artists and the app will create a playlist based on your choices
- Offline mix - save as many mixes as you can carry for offline playback
- Search for mixes containing your favourite artist
- Artist pages complete with high quality artist images, biographies, tweets, gig info (including Here mapping), related artists and more
- Snap View - minimise Nokia Music on your home screen but still access music controls
- Play To ? Stream music to DLNA devices on your wireless network
Nokia Music for Windows 8 is available now from the Windows 8 Store in the UK, US, Ireland and Australia, and will be rolling to all counties with Nokia Music+ in the coming weeks. There is no additional charge for Nokia Music+ subscribers, who can fill in their existing credentials within the app. You can also start a free 7-day trial of Nokia Music+ by registering for a Nokia account within the app.