Oculus Cuts Price of Rift For a Limited Time
Facebook's Oculus is temporarily cutting the price of its Rift virtual reality headset, as the industry tries to figure out why the technology for immersive games and stories has not taken off among consumers.
Oculus is cutting the combined price of its Rift headset and Touch controllers to $399 for six weeks beginning on Monday. That matches the price of another virtual reality set, PlayStation VR, made by Sony.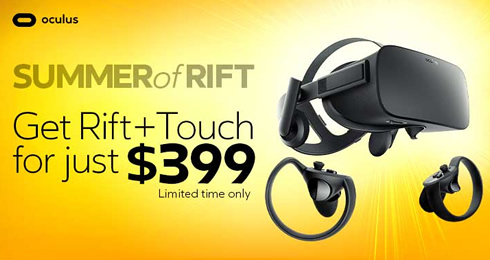 HTC's Vive device is listed for sale at $799 on its website, and it has not recently cut the price.
Facebook paid $3 billion to acquire Oculus and retain its employees in 2014.
Pricing discounts are sometimes a sign of weak product sales, but Facebook says it is not the case with Oculus.
Oculus cut its price once before this year, dropping it from $798 to $598 in March.
Another setback for the company was a $500 million legal judgment against Oculus in February, when a jury found in favor of video game publisher ZeniMax Media Inc in a lawsuit accusing Facebook and Oculus of copyright infringement. Oculus has asked for a new trial.