Olympus To Focus on Mirrorless Cameras
Olympus has decided to rely on a format that so far has been a flop outside Japan. The company on Tuesday announced eleased the "OM-D E-M1", a mirrorless model Olympus says is the first of its kind to compete on quality with traditional SLR cameras. The company's new flagship camera is the successor to the Olympus E-5 DSLR. The E-M1 is packed with speed and image quality that rivals full-frame DSLRs, in a portable yet lightweight body, Olumpus claims.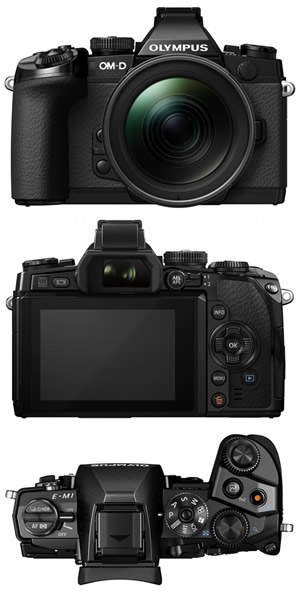 The Olympus OM-D E-M1 now works with all ZUIKO Digital lenses, in addition to working with M.ZUIKO Digital lenses. This is possible due to DUAL FAST AF system that combines both Contrast AF and On-Chip Phase Detection AF. The camera also featuers an electronic viewfinder (EVF) that is as large as a full-frame DSLR viewfinder and has added creative control.
Olympus also announced today the development of two new high-performance lenses: the ZUIKO Digital ED 12?40mm f2.8 PRO lens (24?80mm, 35mm equivalent) and the ZUIKO Digital ED 40?150mm f2.8 PRO (80?300mm, 35mm equivalent).
The OM-D E-M1 uses a new 16.3 megapixel Live MOS sensor, a new TruePic VII image processor, and its M.ZUIKO lenses. The TruePic VII image processor reduces noise and color fading at high ISOs for improved image reproduction. New Fine Detail Processing II technology configures the appropriate sharpness processing for each individual lens for high-quality resolution, as well as reducing compression artifacts when recording movies.
The newly developed DUAL FAST AF selects the ideal method, depending on lens type and settings: either 37-point On-Chip Phase Detection AF or 81-point Contrast Detection AF to maximize the performance of both ZUIKO and M.ZUIKO lenses. Both systems work together to improve continuous autofocus tracking performance when a Micro Four Thirds lens is attached and C-AF is selected. Users can select Group Target AF for a variety of situations, Small Target AF for pinpoint shooting, or Super Spot AF for capturing even smaller subjects and specifying a small area focus location during macro shooting.
The TruePic VII engine supports 10 frames-per-second shooting with a 41-picture RAW buffer in single autofocus (S-AF) mode and 6.5 frames-per-second shooting with a 50-picture RAW buffer in continuous autofocus (C-AF) mode. The 1/8000th of a second mechanical shutter freezes fast-moving subjects like a hummingbird and works in bright conditions to create pictures with dramatic blur.
The E-M1's built-in Interactive Electronic Viewfinder features a 1.48x (35mm equivalent of .74x) magnification factor that rivals full-frame DSLR cameras. The high-resolution 2.36 million-dot LCD panel provides a large image that is on a par with optical viewfinders. Tracking moving subjects is natural with a display time lag of only 0.029 seconds. Users can experiment with aspect ratio, magnification, color, and highlight and shadow, and the effects of camera settings on subjects are viewable prior to capturing the finished image. Adaptive Brightness Control raises the brightness when shooting in bright outdoor conditions and lowers the brightness in dark indoor conditions.
Color Creator is a new tool that fine-tunes hue and color saturation using the GUI and Live View screen. Hue can be adjusted in 30 steps, and color saturation adjusted in eight steps, including the baseline.
The Olympus E-M1's built-in 5-Axis Image Stabilization with Multi-Motion IS mechanism reduces the effects of camera motion and image blur from five directions. New algorithms make image stabilization more effective at low shutter speeds. When it is employed while panning during still image shooting or movie recording, IS-AUTO mode automatically detects the camera's movements and provides optimal correction regardless of direction or camera orientation - even when panning in a diagonal direction. Users can check the image stabilization effects on the Live View screen as well as the viewfinder to accurately frame and focus, even during telephoto or macro shooting.
The Olympus OM-D E-M1 expands the dustproof and splashproof capabilities of the E-M5 even further with freezeproof capabilities ? guaranteed operation down to 14 °F. Its durable magnesium alloy body, and weather-resistant seals and gaskets block moisture and dust for use in any environment. The camera?s Supersonic Wave Filter (SSWF) dust reduction system vibrates at a super-high speed of more than 30,000 times per second to remove dust particles.
Advanced photographers will appreciate the 2x2 Dial Control system to easily adjust four often-used functions with the camera?s lever or two dials: aperture/shutter speed, exposure compensation, ISO speed and white balance. A built-in grip similar to that of the E-M5 makes shooting with Four Thirds lenses more comfortable, and all frequently accessed buttons are logically laid out. Controls are now more functional: the settings reset function is activated by pressing and holding the OK button and there is a toggle option for the My Settings shortcut and a locking mode dial to prevent unintentional movement of the mode dial during shooting or when removing the camera from a case or bag. The dedicated "mic-in" jack supports an external microphone when recording HD movies and a built-in X-Sync socket connects to studio strobes.
The Olympus OM-D E-M1 includes built-in Wi-Fi. The free Olympus Image Share 2.0 smartphone app synchronizes a user's smartphone and E-M1 so the camera's "Live View" is displayed on the phone, and the camera can be controlled by touching the smartphone display as if it were the camera. The E-M1?s remote shooting function has been improved for use in all main shooting modes (P, A, S, M and iAUTO). Users can now wirelessly adjust various settings, such as the shutter speed, aperture value, ISO and exposure compensation, as well as operate the Live Bulb shooting mode from their Wi-Fi devices. They can also use their smartphone to embed GPS information into their images.
New Diorama II adds to the range of Olympus in-camera Art Filters and offers left and right blur effect in addition to the top and bottom blur effect of Diorama I. The Olympus E-M1 is equipped with two variations of HDR Shooting - HDR1 and HDR2. With a single press of the shutter button, four images with differing exposures are captured and automatically merged in the camera into a single HDR high-contrast image or super-high-contrast image. Photo Story mode enables users to capture a scene from multiple viewpoints and then combine the images into a single image to create collages inside the camera. Time Lapse Movie converts the series of pictures taken using interval shooting into a movie inside the camera. The Time Lapse Movie length has been increased to a maximum of 100 seconds. The number of possible shots that can be captured with Interval Shooting has been increased to 999. The E-M1 is also equipped with Focus Peaking, which improves the usability of older manual focus lenses.
The Olympus OM-D E-M1 will be available in October 2013 at an estimated Street Price of $1399.99 (body only, available in Black)