PC3-12800 DDR3 Memory Roundup
2. Crucial Ballistix PC3-12800 6GB Package
Crucial provided us with the retail package of 6GB kit (2GBx3), part number BL3KIT25664BN1608.
The memory modules are typically placed into anti-static packages: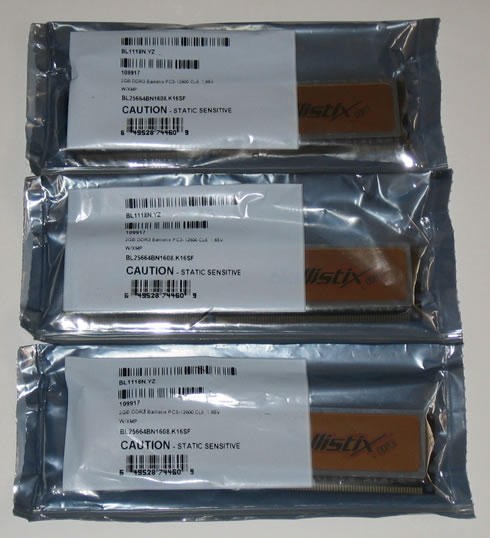 Each module has aluminum heatspreaders and carry the "BallistiX DDR3" logos in both sides, along with several logos/part number and rating labels..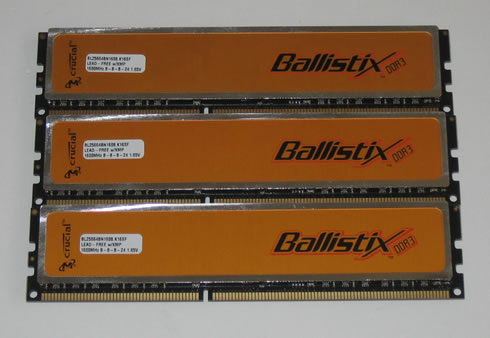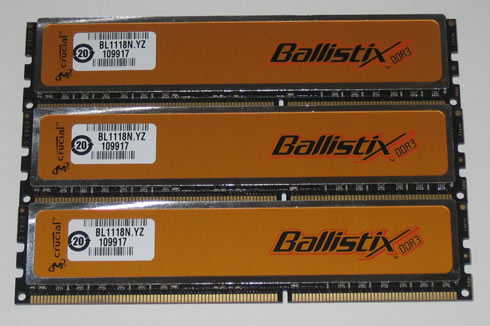 Zooming at the performance label, you can see the PC3-12800 (DDR3-1600) rating and CL8 cache latency of the modules: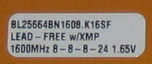 After installing the the memory, we use CPU-Z and see some additional information.
The Crucial PC3-12800 6GB kit supports the JEDEC timings for the 593MHz, and 667Mhz at 1.50V as well as the XMP compatible timings for 800MHz. While the product seems to support DDR3-1600 with CL8 @ 1.65V, the CPU-Z gives CL7 for 800MHz also, which looks very promising. We will see more on this later in the tests.
The Everest Ultimate Edition reports the same embedded timings, and the two XMP profiles are the "Enthusiast" and the "Extreme".