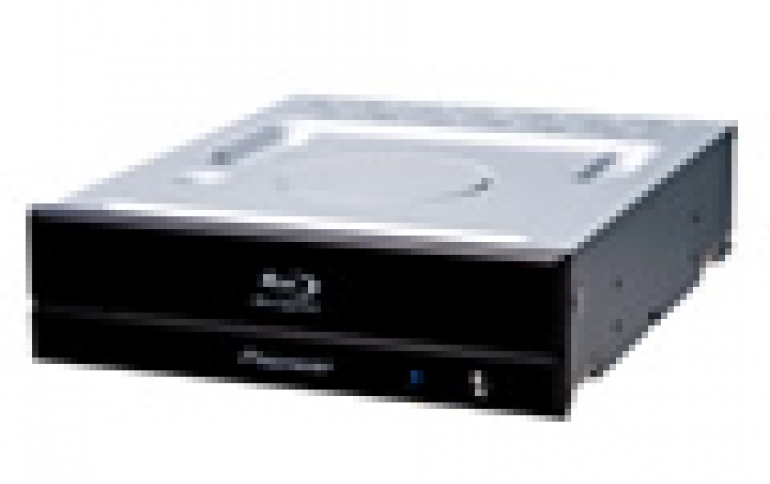 Pioneer BDR-S11J-BK BDR-S11J-X Ultra HD Blu-ray Burners Coming Next Month
Pioneer will release in Japan the first Ultra HD Blu-ray burners for PCs. Both the BDR-S11J-BK and BDR-S11J-X models will hit the shelves in the Japanese market in February.
Ultra HD Blu-ray (UHD BD) discs hold 4K video content and the new drives use Serial ATA Revision 3.0 interface along with customized version of Cyberlink's Power DVD playback software. Supported OS is only Microsoft's Windows 10, and the recommended PC specifications include a seventh-generation Core i7 / i5 processors (KabyLake-S / H) and at least 6GB of RAM. In addition, your PC's graphics card should have an HDCP 2.2 / HDMI 2.0a output and of course, your display should also be HDCP 2.2 / HDMI 2.0a compatible.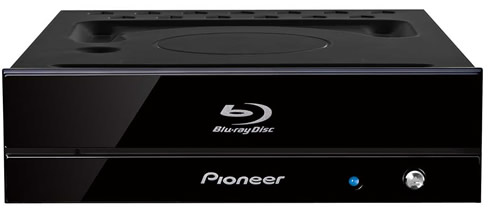 Both BD burners support the following maximum burning speeds:
BD-R 16x
BD-R LTH 8x
BD-R DL 14x
BD-R TL 8x
BD-R QL 6x
BD-RE (SL / DL / TL ) 2x
DVD ± R 16x
DVD ± R DL 8x
DVD-RW 6x
DVD + RW 8x
DVD-RAM 5x
The drives also support the PureRead 4+ and Real Time PureRead functions to offer improved reading performance of scratched audio CDs.
The high-end "BDR-S11J-X" model promises to offer an even better performance in terms of music playback, featuring finely-tuned internal parts along with an "audio CD check function." The latter checks the playback quality of an insterted audio CD.
Pioneer's "BDR-S11J-BK" and "BDR-S11J-X" will be relesaed in Japan by he end of February, priced at 22,000 yen ($195) and 35,000 yen ($310), respectively. Pioneer also plans to release portable BD burners capable of lreproducing Ultra HD Blu-ray discs.
Specifications
Supported discs formats recording
BD
BD-R (Single / Dual / Triple / Quadruple layer)
BD-RE (Single / Dual / Triple layer)
DVD
DVD-R , DVD- R DL, DVD-RW, DVD + R, DVD + R DL, DVD + RW,
Highspeed DVD + RW, DVD-RAM
CD
CD-R, CD-RW, HS CD-RW, US CD-RW, US + CD-RW
Supported discs formats playback
BD
Ultra HD Blu-ray (BD- ROM Dual / Triple layer)
BD-ROM (Single / Dual layer), BD-R (Single / Dual / Triple / Quadruple layer), BD-RE (Single / Dual / Triple layer)
DVD
DVD-ROM (Single / Dual layer), DVD-Video, DVD-R, DVD-R DL,
DVD-RW, DVD + R, DVD + R DL, DVD + RW, DVD-RAM
CD
CD-ROM (Mode 1 & 2), CD-ROM XA, Photo CD (Single / Multi-session)
Video CD, CD-DA, CD-Extra, CD-R, CD-RW
Interface
Serial ATA Revision 3.0
Write speeds
BD
-R
2x, 4x, 6x, 8x, 10x, 12x, 16x
-R DL
2x, 4x, 6x, 8x, 10x, 12x, 14x
-R TL
2 x, 4 x, 6 x, 8 x
-R QL
2x, 4x, 6x
- R (LTH)
2x, 4x, 6x, 8x
-RE
2x
-RE DL
2x
-RE TL
2x
DVD
-R
1 x, 2 x, 4 x, 6 x, 8 x, 12 x, 16 x
-R DL
2x, 4x, 6x, 8x
-RW
1 x, 2 x, 4 x, 6 x
+ R
2.4x, 4x, 6x, 8x, 12x, 16x
+ R DL
2.4x, 4x, 6x, 8x
+ RW
2.4x, 3.3x, 4x, 6x, 8x
-RAM
2x, 3x, 5x
CD
-R
4 x, 10 x, 16 x, 24 x, 32 x, 40 x
-RW
4x, 10x, 16x, 24x
Read speeds
BD-ROM (1 layer)
12 x Max
BD-ROM (2 layers)
8 x Max
BD-ROM (3 layers)
4 x Max
DVD-ROM (1 layer)
16 x Max
DVD-ROM (2 layers)
12 x Max
CD-ROM
40 x Max
Buffer memory size
4 MB
Installation
Horizontal-vertical
Dimensions
148 mm x 42.3 mm x 181 mm (W x H x D)
Weight
740 g