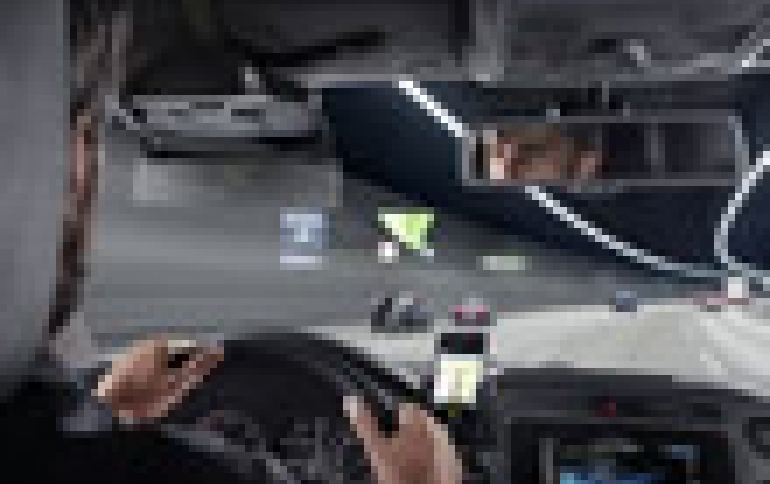 Pioneer Introduces NavGate Head-up Display At IFA
Pioneer released its augmented reality NavGate head-up display (HUD) for smartphone navigation apps that attaches to the driver's sun visor and projects traffic, navigation and other info in full colour through the windscreen, just above the horizon, allowing him to keep his eyes on the road at all times while navigating. Using a DLP projector for high contrast and deep colour saturation, Pioneer's NavGate HUD creates what looks to the driver like a 30-inch display, sitting about 3 metres in front of him. Location information is presented as a natural part of the landscape. The NavGate HUD is compatible with the CoPilot and NNG's iGO primo smartphone apps and displays navigation instructions, points of interest, road hazards and much more.

Head-up display technology contributes towards safe driving by displaying useful information in high resolution within the driver's direct line of sight, which means he doesn't have to take his eyes off the road to follow directions.

All information shown on the NavGate HUD has been carefully selected for usefulness and low distraction. Simple instructions allow the driver to fully focus on the road ahead. Aside from showing turn-by-turn directions, the unit is able to display a clock, the current speed and speed limits, speed and red light camera warnings, the distance to the destination, as well as the estimated time of arrival. To provide better vision and reduce power consumption, the NavGate HUD incorporates light sensors which automatically adjust the brightness of the projections according to the amount of light.

Pioneer's NavGate HUD supports various smartphones, which connect to the unit via USB. To control the NavGate HUD, the user has to install the CoPilot or iGO primo smartphone apps and activate the HUD function through in-app purchase. Both apps offer voice-guided turn-by-turn directions, which can be heard through the smartphone speaker or through a Bluetooth car stereo. Any music that's being played through the mobile device or car speakers will be faded out before the voice starts giving directions. Even while the driver is calling or using other apps, the NavGate HUD will display the navigation instructions.

The NavGate HUD will be available from October 2013 at Pioneer car audio dealerships.