Pioneer's New In-Ear Headphones Combine Styling With Sound Quality
Pioneer & Onkyo today introduced three new headphone offerings that are designed to keep your hands free while promising superior performance.
The SE-C3T (C3), SE-QL2T (QL2) and the SE-QL7BT (QL7) in-ear headphones boast powerful drivers and feature aluminum housing to reduce vibration and heighten audio clarity.
The C3 features a unified color scheme, and the wide-spectrum 10mm enclosed dynamic driver and a gold-plated, 4-pole stereo plug. A compact in-line mic captures audio, and the remote control box is user-friendly for all fingers. Available in black, gray and red, the C3 is now available for $19.99 USD / $34.99 CAD.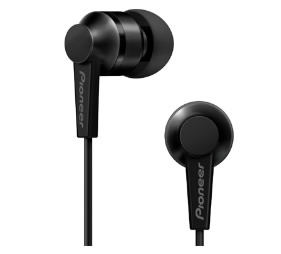 The QL2 has a high texture finish along with 10mm drivers. it has a 4-foot cable that ends in a 3.5mm gold-plated, 4-pole stereo mini plug, and it is available now for $14.99 USD / $24.99 CAD in four color options: black, red, gold and pink.
The QL7 is a wireless Bluetooth earphone that features Near Field Communication (NFC) which lets users pair their headphones with their device simply by touching them together. It supports the AAC codec for high-quality sound and is compatible with the Pioneer Notification App for Android which translates text in spoken form. The unit comes with a silicon neckband and cables and includes a lightweight remote so owners can make/take/end calls, and adjust volume and play controls like back, forward, skip, and pause. The QL7 is now available in black, gold, red and pink for $69.99 USD / $99.99 CAD.