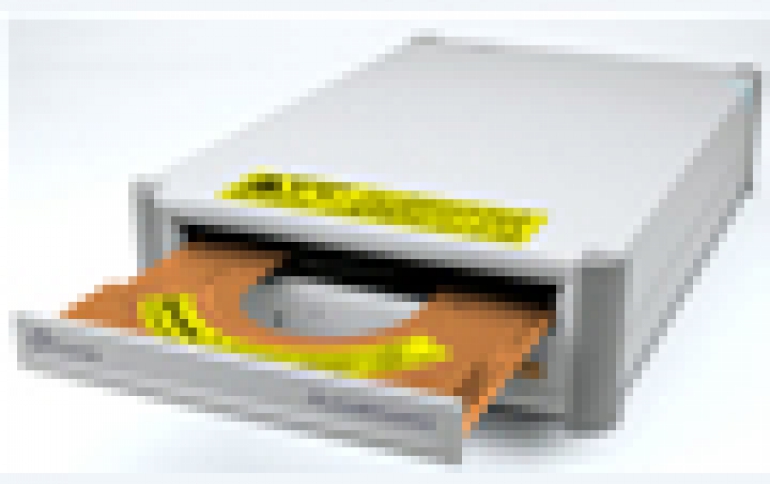 Plextor Europe Launches Security Security Device Which Destroys Data on a CD/DVD
Plextor Europe today launches the environmentally friendly and high-tech alternative to the disc shredder - PlexEraser PX-OE100E. Designed for security-conscious organisations such as financial institutions, Government departments, the military, research establishments - and any company with commercially sensitive data - it is the first security device in the world which destroys data on a CD/DVD. The PlexEraser enables discs to be destroyed without the organic dye leaking from the disc - something not possible with a disc shredder/manual shattering - and leaves them ready to be recycled without any data being recoverable.

Being a stand alone unit, there is no need for a PC (and it doesn't fill up any drive bays or USB ports).

Plextor had developed its own new technology that destroys the data-logging part on the CD/DVD disc by a laser beam. This directly destroys the data recording layer in the disc, which means the data is unreadable and unrecoverable. After the data is destroyed, the drive automatically marks the disc to show which ones have been destroyed and which have not.

In addition to destroying discs in an environmentally-friendly way, the PlexEraser unit itself is manufactured to WEEE and RoHS directives.

The PlexEraser destroys eight types of formats:

CD-R/CD-RW/DVD-R/DVD+R/DVD-RW/DVD+RW/DVD-R DL/DVD+R DL. It also destroys both 12cm and 8cm sizes. It takes, on average, 3 minutes to destroy CD-R/RW, DVD+R/RW, DVD-R/RW and 6 minutes for dual layer (DVD+R DL, DVD-R DL).

To prevent accidentally destroying your data, the PlexEraser is the only drive with a bright orange tray. It has an easy operation - simply insert the disc that you want to throw away and it starts automatically. When it finishes, the disc is automatically ejected. In addition it has low power consumption and very low operating noise, just 35 decibels - barely noticeable even in a quiet office.

The Plextor PlexEraser will be available from September 2006 at Plextor's network of dealers.