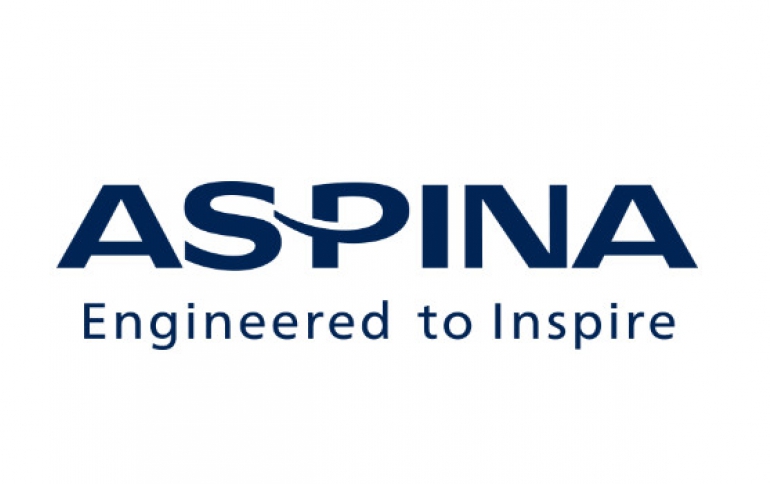 Shinano Kenshi Introduces New ASPINA Corporate Brand
Japan's Shinano Kenshi Group, once the company behind the Plextor brand for optical strage products, announced a new corporate brand name, ASPINA.
The company, which mainly specializes in manufacturing of small precision motors such as hybrid stepping motors and brushless DC motors, will migrate in September its corporate brand to ASPINA.
"By utilizing our technical ability and problem-solving ability accumulated over many years, we will give form to the hope and comfort of people throughout the world in fields such as industrial machinery, home appliances, household equipment, automobiles, medicine, and social welfare," the company says.
According to the company, the name ASPINA was formed by placing the letter "A" on both sides of the word "SPIN." The word SPIN refers to the silk spinning which was the original business of Shinano Kenshi, as well as the spinning of motors. The letter A refers to a brand that weaves Class A products together with its customers. ASPINA also refers to the word "Aspire," sending the message for "eagerness, desire, fervent wish, aim, and intention."
Inaugurated as Shinano Kenshi Boseki Co., Ltd. in 1918, Shinano Kenshi's 100-year history coincides with the development of Japan's key industries. Starting out with silk spinning, the company diversified into precision motors. This was followed by information system equipment and industrial equipment.
CDRInfo.com visitors may know the company for its optical storage products. In 1989 Shinano Kenshi launched CD-ROM drives, a CD-I encoding system and CD background music players.
Four years later, the company established PLEXTOR S.A. and Shinano Kenshi Europe, N.V. in Belgium. Plextor soon became a Pioneer in optical storage drives (CD and DVD burners), a synonymous to quality.
1994 saw the establishment of PLEXTOR Corporation and PLEXTOR Co., Ltd. in Japan.
In 1997 the company launched 32x-speed CD-ROM drives and CD-R drives. One year later Plextor released its first 40x-speed CD-ROM drive featuring a SCSI interface. The company also introduced CD-based talking book players for the visually impaired.
In 1999 Plextor released its first CD-RW drive, followed by slim-type CD-R/RW drives in 2001.
In 2002, Plextor introduced the PLEXTALK portable recorders for the visually impaired, along with 48x-speed CD-R drives.
The first Plextor 52x CD-R/RW hit the market in 2003.