15. DVD+R DL - Page 1
- Writing Tests
The Plextor PX-716AL supports up to 6X 8.310KB/s (CLV) max burning speed for DVD±R DL media.
We burned two DL discs with DVD-Video content. The source disc was "Gladiator Movie - Special Edition" disc1 with a total size of 6.86GB. First, we transferred the movie to the hard disc with DVD Decrypter as ISO format (single file). Afterwards, we used CopyToDVD v3.0.51.
Note here that the PX-716A model did not support by default burning for -R DL formats and that was achieved through the use of a firmware upgrade. The PX-716AL supports this feature (-R DL burning) by default and no further flashing is required.
Verbatim 8X DVD+R DL @ 6X
CopyToDVD reported 16:32mins total burning time with 5.46X average writing speed.
Verbatim 4X DVD-R DL @ 6X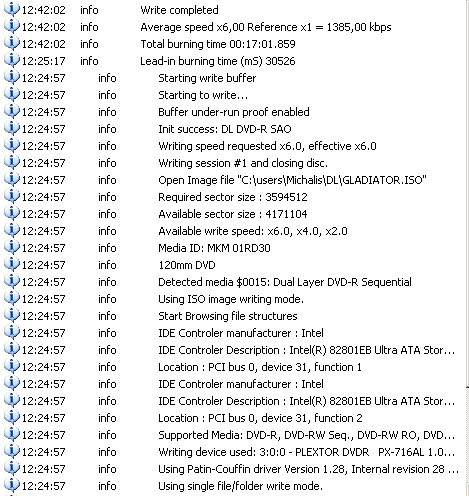 CopyToDVD reported 17:01mins total burning time with 6:00X average writing speed.
For comparison, we post some burning results from other DL writers, which all burned the same content ("Gladiator Movie - Special Edition" disc1), using the CopyToDVD software:
| | |
| --- | --- |
| Drive | Time (mins) |
| Pioneer DVR-109 (6X) | 16:29 |
| Plextor PX-716A | 23:33 |
| NEC ND-3520A | 22:35 |
| Plextor PX-716AL | 16:32 |
| Pioneer DVR-108 | 23:10 |
| Asus 1608P | 16:27 |