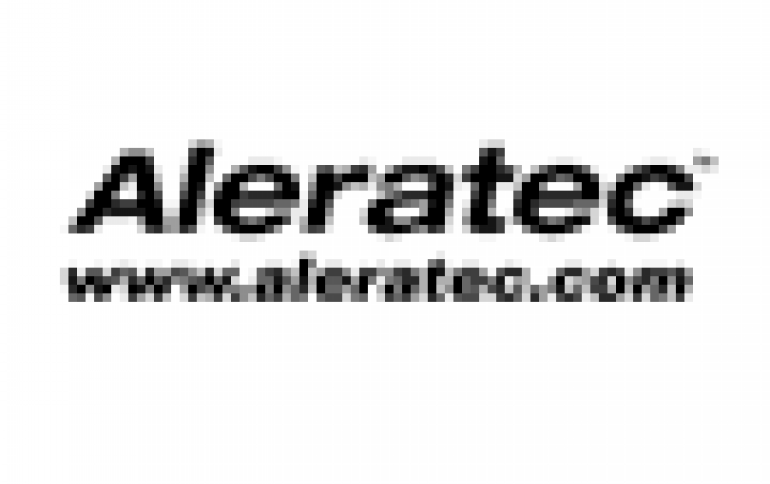 Rainbow Colors and Duplicator Grade Quality Distinguish Aleratec DVD-R LightScribe Media
Aleratec is now shipping its new Aleratec color coded duplicator grade LightScribe DVD-R recording media. Aleratec duplicator grade LightScribe media is optimized for LightScribe Direct Disc Labeling DVD Duplicators and Publishing Systems producing the highest contrast LightScribe Direct Disc Labels and maximum yields in demanding professional disc publishing applications. The new Aleratec duplicator grade LightScribe media is produced in 5 different colors to aid in segregating and organizing different types of data or multimedia. These color-coded discs are LightScribe-ready and can be direct-to-disc LightScribe labeled in LightScribe DVD-RW drives without a printer. The Aleratec Rainbow 100 Pack(tm) contains 20 each of 5 key colors (red, orange, yellow, green, and blue) for a wide range of disc identification options.

"With the success of our LightScribe DVD/CD publishing systems growing daily, more and more users have emphasized the importance of being able to organize and identify data by subject or classification at a glance, especially in government and corporate applications," stated Perry Solomon, President and CEO. "For example, discs containing government classified information must be color-coded so that the proper handling for a particular level of data contained is obvious. This is just one of the growing needs we have found in our studies, and we are excited to offer our Rainbow Pack to take organization and recognition of disc types to the next level."

With LightScribe there is no printer. Direct-to-disc labels are laser burned, crystal clear and professional-looking. No ink or other costly printing supplies are required. Aleratec Direct Disc Publishing Systems utilize LightScribe enabled DVD/CD recorders and specially coated LightScribe media to produce precise, laser-etched, disc labels with superior sharpness and clarity. LightScribe discs can be pre-labeled, for example, by department or classification level and appended with more detail later. With the added advantage of color coding, disc content can be immediately recognized, organized and properly managed. Now sensitive and classified information does not have to be sent offsite to be recorded or duplicated, which is especially important when that practice is forbidden.

"Color-coded discs offer an added level of instant recognition for improved productivity in any fast paced environment where error free performance is critical," said Kent Henscheid, Marketing Manager for LightScribe. "Users will welcome this new dimension to Aleratec's LightScribe DVD-R media. Color-coding is a natural extension to LightScribe's inherent characteristics of crisp, clear, silkscreen-quality labels."

The Aleratec DVD-R 16x LightScribe V1.2 Duplicator Grade Rainbow 100 Pack is packaged in stackable cake boxes for easy storage and access to blank media. The Aleratec LightScribe DVD-R Rainbow 100 Pack (Aleratec Part No. 230115, Ingram Micro SKU Q41358, Tech Data SKU 01471I) is now available at the low estimated retail price (ERP) of $89.99.