Razer Created the Razer Viper Wireless Mouse For esports
Razer today announced the Razer Viper Ultimate, an ultra-fast wireless gaming mouse designed for esports.
The Razer Viper Ultimate joins the Viper lineup of lightweight gaming mice featuring Razers Optical Switches. Now untethered from its cord, the new 74-gram mouse offers faster performance, increased durability and longer battery life than previous Razer wireless mice.
The mouse features Razer's Razer HyperSpeed wireless technology, which is 25% faster than leading wireless gaming mice, according to tests performed by the
TUV SUD PSB certification institute. With the lowest click latency, it has the fastest transmission speed in any wireless mouse, registering swipes and clicks instantaneously.
The improved Adaptive Frequency Hopping of HyperSpeed assists in maintaining a lag-free wireless connection, constantly scanning frequency channels for interference and seamlessly switching channels in real-time.
A further benefit of Razer HyperSpeed is reduced power consumption, resulting in 25% more battery life for up to 70 hours of uninterrupted gameplay before the Viper Ultimate needs chargin.
The mouse is fitted with a brand new, innovative sensor, the Razer Focus+ Optical Sensor. Working with Pixart, Razer has introduced new intelligent functions to the Viper Ultimate sensor, including Smart Tracking, Asymmetric Lift-Off, and Motion-Sync. With a 99.6% resolution accuracy, 20,000 DPI sensitivity and a tracking speed of 650 Inches Per Second (IPS), the new Razer Focus+ offers the highest sensor specifications available to-date.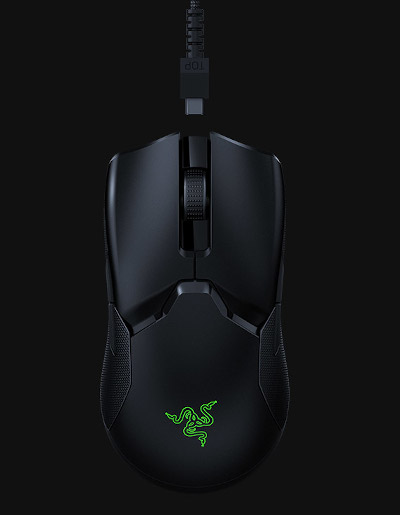 Smart Tracking automatically calibrates across different mouse surfaces (e.g. a cloth or hard-surface mouse mat), ensuring lift-off distance and accuracy remain consistent and eliminating the inconvenience of manual calibration required by previous sensors.
Asymmetric Lift-Off enables users to preset different landing and lift-off distances for greater accuracy during gameplay. The landing distance is the point at which the mouse resumes tracking again, ideally as close to the surface as possible to prevent mouse drift.
Motion-Sync ensures information from the sensor to the PC is sent at exact intervals for better sensor responsiveness and improved tracking consistency.
Wireless mice typically operate on a low voltage to increase battery life. This worsens the corrosive effect on their mechanical switches, leading to a shorter lifespan and a higher risk of unintended clicks.
The Razer Optical Switches on the Viper Ultimate wireless mouse require no physical contact to send electrical signals to the PC, eliminating the need for debounce delay and causing zero corrosive effects.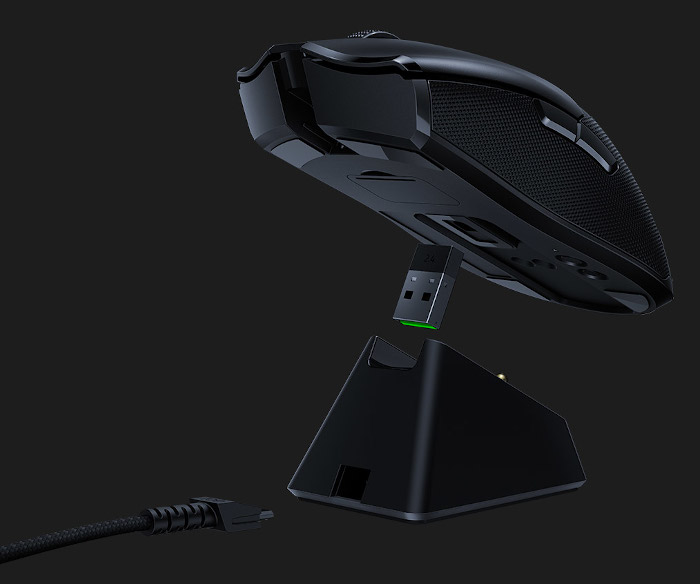 The lightweight design of the mouse is achieved without resorting to an external honeycomb design, resulting in a solid chassis. To further reduce any residual mouse drag, the Viper Ultimate features smoother high-grade PTFE mouse feet.
Using Razer Synapse 3, users may rebind eight programmable buttons, assign macros or secondary functions, and save all profile configurations to the Viper Ultimate's On-board Memory. The mouse offers storage for up to five on-board memory profiles.
The Viper Ultimate is also available in a bundle together with the Razer Mouse Dock, powered by Razer Chroma RGB with 16.8 million colors and signature lighting effects. The new standardized docking module has been designed to accommodate future top-tier wireless mice from Razer and accommodates a USB-A input to operate the Viper Ultimate in full wired mode with the included Speedflex cable.
The Viper Ultimate is available now:
Razer Viper Ultimate & Razer Mouse Dock: $149.99 USD / €159.99 MSRP
Razer Viper Ultimate: $129.99 USD / €139.99 MSRP
Razer Mouse Dock: $49.99 USD / €59.99 MSRP
Tech Specs
20,000 DPI Focus+ optical sensor with 99.6% resolution accuracy
Up to 650 inches per second (IPS) / 50 G acceleration
Advanced Lift-off/Landing distance customization
HyperSpeed wireless technology
Eight independently programmable buttons
Razer Optical Mouse Switches rated for 70M clicks
Ambidextrous shape
Gaming-grade tactile scroll wheel
On-The-Fly Sensitivity Adjustment (Default stages : 400/800/1600/2400/3200)
Hybrid On-board and Cloud Storage (4+1 profiles)
Razer Synapse 3 enabled
Razer Chroma lighting with true 16.8 million customizable color options

Inter-device color synchronization
Wired and Wireless usage modes
2.4 GHz dongle
1.8 m / 6 ft Speedflex cable for charging and wired use
Razer Mouse charging dock compatible
Battery life: Approximately 70 hours (without lighting) (Battery life depends on usage settings)
Approximate size: 117 mm / 4.6 in (Length) x 71 mm / 2.79 in (Width) x 38 mm / 1.49 in (Height)
Approximate weight: 74 g / 2.61 oz (Excluding cable)
Compatible with Xbox One for basic input