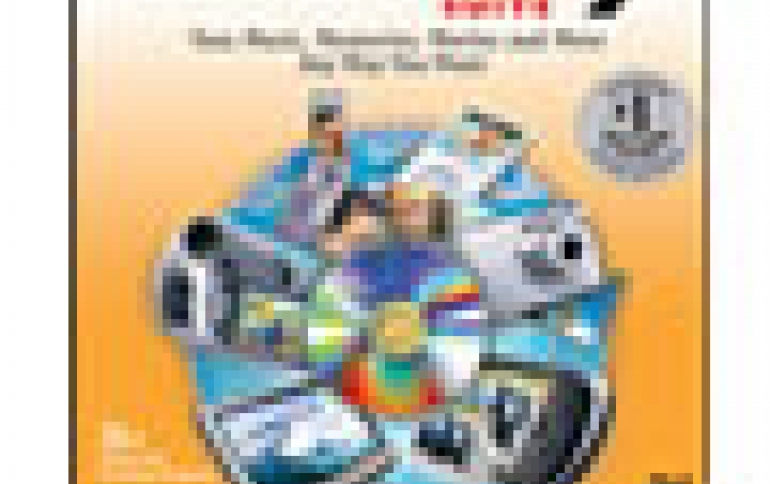 Roxio Releases Easy Media Creator 9 Deluxe Suite
Deluxe Suite includes audio applications, new DVD menu styles, Roxio Disc Gallery, and Pinnacle's Dazzle video-capture device. "Roxio continues to address the evolving needs of the market by providing users with a richer set of tools for efficiently producing highly personalized and professional-looking multimedia projects in an intuitive and easy-to-use environment," said Stan Wong, general manager, Roxio division, Sonic Solutions. "Easy Media Creator 9 Deluxe Suite takes the industry-leading suite of photo, video, and music applications to new heights with its extended feature set, while also delivering tremendous value in this complete all-in-one digital media solution."

Creator 9 Deluxe Suite includes Pinnacle's top-selling Dazzle video capture device, which enables users to transfer video from analog camcorders or VCRs to their PC for digital output in MPEG-1, DVD-quality MPEG-2, or H.264 (MPEG-4). Further enhancing the suite's video capabilities, DivX Pro is included. With its inclusion, users can drag and drop content to create high-quality, compressed DivX video and use simple format conversion options to publish files to popular video-sharing sites. Creator 9 also includes advanced auto editing tools and 10 new professionally-designed menu styles that allow users to generate Hollywood-style DVDs.

For audio control, Creator 9 Deluxe Suite includes the professional quality noise reduction application, BIAS SoundSoap 2. SoundSoap reduces unwanted noise in audio and video files. The software offers a unique one-click Learn Noise option to easily detect and remove audio imperfections without harming the original sound. In the Noise Only mode, users can easily identify the sounds to be removed by listening specifically to only the unwanted audio. SoundSoap features a rich graphical display that highlights the sound imperfections in real-time.

With the inclusion of Roxio Disc Gallery, indexing and tracking the location of files and folders burned to data CDs, DVDs, or Blu-ray Disc has become as convenient as one-click burning. Now users can find files quickly and easily without tediously searching through every disc. Users can also browse or search for files in the catalog of indexes, and compare file directories with previous discs burned to ensure that only what has changed is burned to disc.

Also included in Creator 9 is a one-year complimentary subscription to SightSpeed Pro, enabling users to call, chat, or video conference with friends and family over the Internet for free. SightSpeed Pro features unlimited multi-party conference calls and long-term video voicemail, longer video recording time, storage for the life of the subscription, detailed call activity reporting, and a personalized URL.