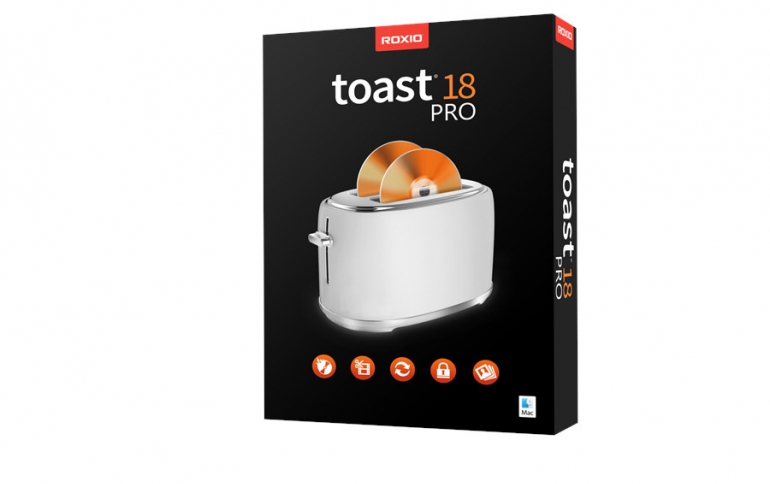 Roxio Toast 18 Digital Toolkit Released for Mac
The Toast 18 Titanium and Toast 18 Pro, the latest versions of Roxio's digital media and burning suite for macOS, have been released.
Toast 18 allows you to capture, edit, convert video and audio files, burn to DVD, encrypt files, and more. And if you are looking for new creative options, you can now explore the new Roxio Akrilic to transform photos into digital art with AI-powered Smart Art technology.
Toast 18 Titanium
This digital media manager and CD & DVD burner for Mac in 64-bit makes it simple to burn, copy, capture, edit, convert, and share your music, videos, photos, and files. Use Toast MyDVD to author DVDs complete with menus, chapters, and music. Safeguard your information with banking-level encryption using Roxio Secure Burn and create both Mac and Windows compatible formats. Edit two camera angles together to create dynamic videos using MultiCam Capture and MultiCam Editing. Engage your creative side by transforming photos into digital art with new Roxio Akrilic.
Toast 18 Pro: Get all the power of Toast 18 Titanium, plus enhanced editing with up to four multi-cam streams, and more
WinZip Mac 7 – Easily zip, unzip, protect, and share your files to iCloud, Dropbox, Google Drive, and more.
Blu-ray Disc Authoring – Burn your video to high-definition Blu-ray Disc.
100+ Templates for Toast MyDVD – Add creative flair to your DVD or Blu-ray movies with hundreds of titles, menus, and chapters.
Painter Essentials 6 – Sketch, draw, or paint with amazingly realistic Natural-Media brushes.
AfterShot 3 – Efficiently correct and enhance your photos and apply adjustments to one or thousands of photos at once.
Roxio Toast 18 Titanium and Roxio Toast 18 Pro are available now in English, French, German, Italian, Japanese, and Spanish as electronic downloads directly from www.roxio.com. Roxio Toast 18 Titanium is available at the suggested retail price (SRP) of $99.99 (USD & CAD)/ £89.99/ EUR 89.99. Roxio Toast 18 Pro is available at the SRP of $149.99 (USD & CAD)/ £139.99/ EUR 139.99.
Roxio Toast 18 Titanium will also be available at selected retail partners starting in August 2019.