Samsung 980Pro vs 980 1TB SSD Review
4. Performance - Page 3 / Conclusion
- Performance - Page 3
As a final real-life test, we used two scenarios to stretch both SSDs. We used a single file with file size around 42GB and we copied back and forth to both SSD to check if they can sustain their writing speed to the max.
The tests results showed that the Samsung 980Pro 1TB can sustain its writing speed up to 2.9GB/sec resulting very good results. The Samsung 980 1TB performs somewhat lower with 2.1GB/sec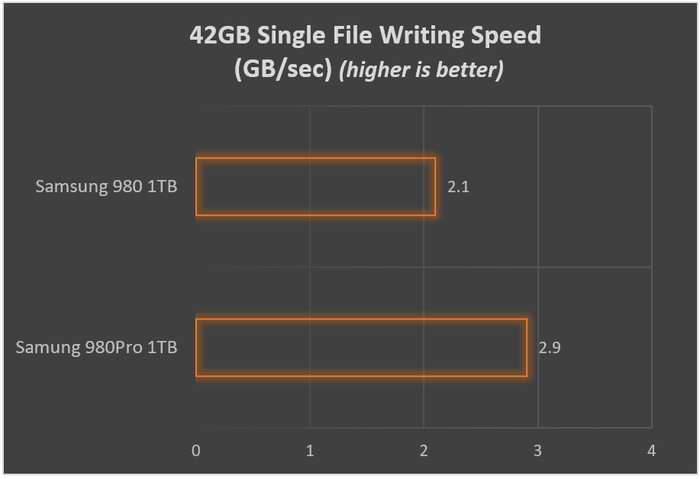 Passing to a more demanding scenario, we used several folders and a mix of high and low sized filetypes and again we copied back and forth to both SSDs...The file size of the total project is around 192GB and has 48 folders and 32 files.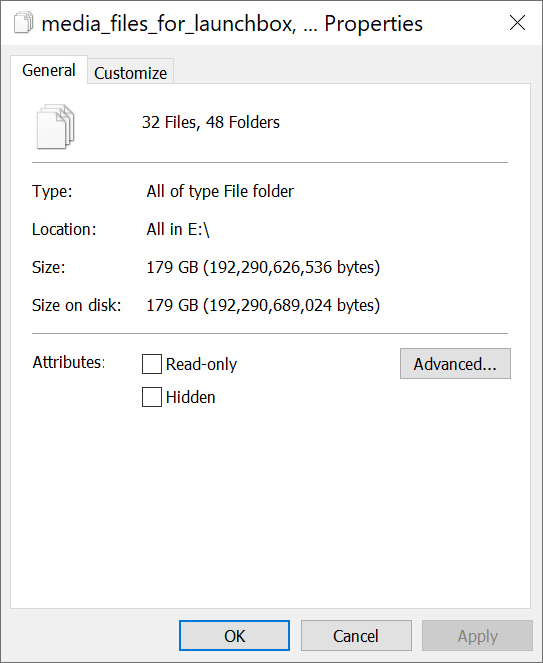 Will performance be as good as before? Well no...
Using Terracopy we managed to get a graph of the writing speed for both SSDs. The Samsung 980Pro 1TB starts writing at 2.9GB and around 100GB drops its writing speed to 1.7GB and finishes the task at 1.18mins.

On the other hand...The Samsung 980 1TB starts at a lower writing speed of 1.8GB/sec, manages to rise up to 2.3GB/sec and at 170GB of written data drops significant its writing performance down to 30Mb for some time and after that point reached only 430Mb/sec, which may consider low.

The above results showed that unless you write very high volumes of data from disk to disk each time (for example 500GB copying), performance of the 980 1TB should be OK, however due to its DRAM less design, it simply cannot keep up since buffer fills up and performance drops significantly. On the other hand, the 980Pro 1TB really keeps up and despite its drop from 2.9GB to 1.7GB finished the test without any issue.
- Conclusion
Samsung with the latest 980 series aims for the Enthusiast (980Pro) as well as the entry level users (980) with their 1TB SSD variations. The top-of-the-line 980Pro is armed with the latest technologies from Samsung and promises full PCIE x4 performance and we can see say...it delivers. While the drive is only (?) based upon NVME 1.3 protocol it manages to have high performance with very low latency as well. The 980Pro series clearly aim for the top users with corresponding price range that reaches up to 190 Euro for the 1TB version.
On the other hand, the 980 1TB is priced much lower with 130 Euro and different onboard controller and DRAM less design, meaning its performance will vary among systems since it relies upon the Host Memory Buffer. The 980 series (for now) top only up to 1TB version.
Both products have similar retail package design and contents. Their physical specs are also identical and comply with the M2280 standard. There is a small difference in power consumption (according to Samsung specs), Max 8.9 W (Burst mode) for the 980Pro vs Max 5.3 W (Burst mode) for the 980 series. On the other hand the power idle consumption is less at the 980Pro making things rather complicated.
Their most obvious difference that is being reflected at their price difference is the fact that the 980Pro has onboard DDR4 memory, while the simple 980 series doesn't. How this reflect upon final performance was noticed at our tests, with the most obvious the much less I/O response time of the 980Pro (3.5ms vs 25.55ms of the 980 series). While this may doesn't sound as bad it will eventually reduce performance with high and demanding loads. Synthetic benchmarks highly favor the 980Pro as was expected. However both drives may have similar performance with mixed workloads as monitored from the IOMeter software in case you are using small files under 16Kb and 32Kb. Using much higher files, up to 170GB will not much affect the performance of the 980 1TB, however if you are really using very high volumes of data among SSDs, the 980Pro should be your choice, despite the higher retail price.
Overall, both SSDs have 5 years of warranty and the 980Pro has double (1200 Terabytes written) the endurance so it all depends upon your needs. Regular/entry level users should be just fine with the 980 1TB SSD, while enthusiasts and demanding users will enjoy the higher reading/writing speeds of the 980Pro provided that they have a PCI-e x4 capable motherboard.