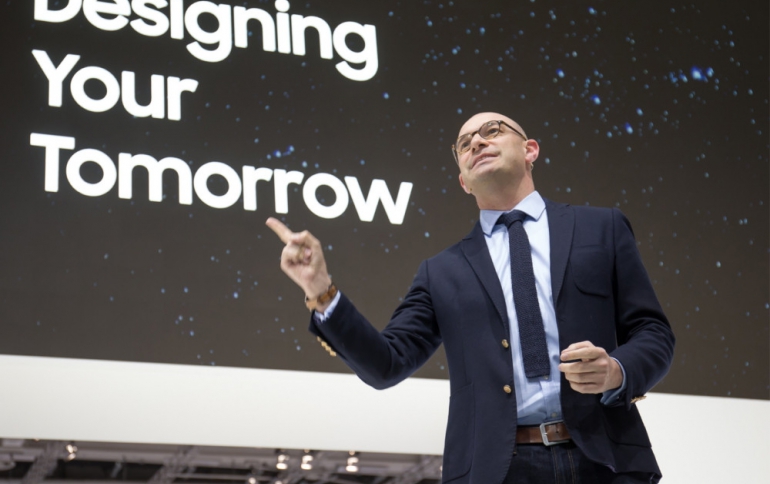 Samsung and LG Promote AI, Connected Lifestyle at IFA
Samsung Electronics and LG Electronics will unveil their latest appliances based on artificial intelligence (AI), fifth-generation (5G) network connectivity and internet of things (IoT) technologies at Berlin's top electronics fair IFA.
LG Electronics
LG decorated the entrance of its IFA booth with a massive OLED installation. The massive "OLED weterfall" consists of 260 flexible OLED screens.
The company has also on display a "rollable" SIGNATURE OLED TV R. Unveiled in January in the U.S., the "rollable" TV has a fully flexible, thin display that can be rolled up and hidden away.
LG also decorated its booth with AI-based appliances designed to enhance customers' daily experience.
At the LG ThinQ Home exhibition area, LG displayed a wide range of AI-powered connected devices including TVs, refrigerators, beam projectors, washers and dryers.
The appliances operate not only LG's AI platform ThinQ but also other AI platforms such as Google and Amazon's.
LG also furnished its booth with 88-inch 8K OLED TVs. Equipped with an AI processor, the 8K OLED TV can automatically improve picture and sound quality of low-resolution videos, the company said.
Visitors will get their first look at LG's gaming monitor UltraGear as well, which has a refresh rate up to 240 hertz.
LG also aims to woo premium customers with its SIGNATURE high-priced home appliance brand. The company teamed up with Massimiliano Fuksas, a renowned Italian architect, to decorate a booth especially designed to promote SIGNATURE OLED TVs, refrigerators, washers, humidifiers, air purifiers, air conditioners and wine bottle containers.
LG introduced its latest high-end smartphone that features an optional dual screen accessory. The company said the accessory will be upgraded compared with the one in the V50 ThinQ 5G smartphone in early 2020. In addition, two budget smartphones with large screens, multiple cameras and larger battery capacity are also displayed at the booth.
At a panel talk event, Dr. I.P. Park, president and Chief Technology Officer of LG Electronics, shared the company's vision for an AI-powered future where Anywhere is Home. Addressing the three pillars of LG's AI strategy Evolve, Connect and Open, Dr. Park and the expert guest panelists discussed how innovations in AI and connectivity will expand the notion of home to every domain of living beyond the front door.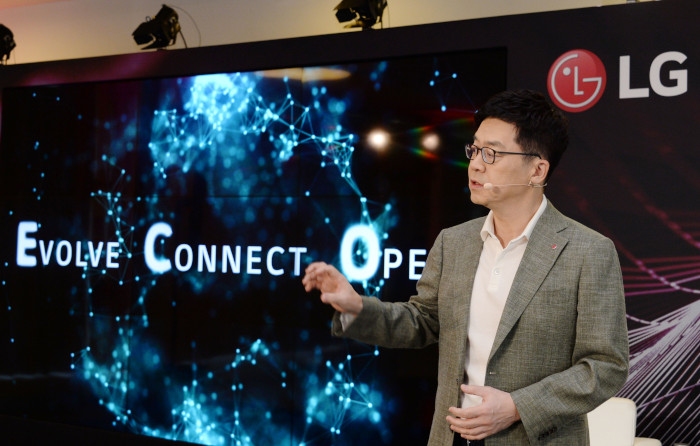 At the heart of today's discussion was the role of LG ThinQ, the company's brand for intelligent devices, which now brings together AI products and services as well as those with Wi-Fi and IoT capabilities under a unified vision for an AI-based ecosystem. To illustrate the evolution of LG ThinQ, Dr. Park introduced a intelligent learning concept which enables robot vacuum cleaners to avoid getting stuck in corners and obstacles. Facilitating such innovations will be LG's proprietary AI chip for appliances, launched earlier this year, which uses LG Neural Engine for on-device AI.
At the same time, in order to connect more digital touchpoints in consumers' lives, LG is researching ways to diversify the modes of user-device interaction beyond voice recognition. This encompasses innovations such as the add-on vision intelligence module Vision Pack, a vision sensor connected to the cloud. Dr. Park demonstrated the LG Styler with Vision Pack that can visually recognize items of clothing and make recommendations accordingly. Dr. Park also introduced LG ThinQ Fit, an evolution of the Smart Mirror concept where 3D cameras accurately measure the user's body size to generate a realistic avatar for virtual fittings.
Samsung Electronics
Samsung installed the largest booth among the participating companies, occupying 10,072 square meters. With the concept of Samsung Town, the company is set to promote its cutting-edge products and conduct business meetings with European buyers.
"Visitors to Samsung Town can take a glimpse at the latest IoT appliances, QLED 8K TVs, built-in kitchen and living room appliances and the full lineup of the Galaxy smartphones," the company said.
The company declared to: democratize QLED 8K technology with the introduction of a full line up of QLED 8K TV; innovate in the home appliances market with its BESPOKE line-up of customizable refrigerators; and further expand Samsung's 5G device footprint with the launch of the new Galaxy A90 5G and Galaxy Fold 5G.
Benjamin Braun, chief marketing officer of the company's European unit, introduced the latest products and services.
Under the theme, "designing your tomorrow," Braun said Samsung will work on producing innovative products that can meet the needs of millennials.
"Ever since Samsung's original black and white TV launch nearly 50 years ago, we have been introducing cutting-edge technologies across our consumer electronics, home appliances and mobile businesses," Braun said.
Samsung Town is comprised of six lifestyle zones enabling visitors to experience various IoT devices in different environments. Every device is connected with Samsung's SmartThings IoT platform.
Samsung introduces customizable BESPOKE refrigerators at IFA. As the European market accounts for about 40 percent of the built-in electronics market, Samsung expects the BESPOKE lineup will be a fit to the European lifestyle.
Samsung said that since the launch of Samsung's QLED 8K TV last year, total purchases of QLED TVs have increased 200 percent year-on-year. This fast adoption of QLED TVs has led to more than two million units sold across the world in the first half of this year. To enhance the line-up even further, the 55-inch QLED 8K will sit alongside the Samsung QLED range of the current 65, 75, 82 and 85-inch versions.
The 55-inch QLED 8K TV will be available globally in September. The new 55-inch variant will offer the continued premium benefits of the QLED 8K TV range, including picture quality with depth and detail, 100 percent color volume and AI upscaling technology. Whether a consumer is watching content through a streaming service, set-top box through HDMI, USB, or even mobile mirroring, the Quantum Processor 8K recognizes and upscales lower resolution content to 8K quality.
Samsung also confirmed that the Galaxy Fold will be available in Cosmos Black and Space Silver starting September 18, 2019, in countries including France, Germany, Singapore and the U.K., with the U.S. launch to follow. A 5G-ready option will also be available in select markets.
Along with the Galaxy Fold, Samsung's other 5G smartphones such as the Galaxy Note 10 and the Galaxy A90 5G are also displayed at Samsung's booth.

Finally, on September 6, Samsung will launch the new Galaxy Watch Active2.