Samsung Begins Production of 256GB Embedded Universal Flash Storage for Autos
Samsung has begun mass production of a 256-gigabyte (GB) embedded Universal Flash Storage (eUFS) solution with features based on automotive specifications from the JEDEC UFS 3.0 standard.
Samsung's 256GB eUFS is now being shipped to automotive manufacturers preparing the market for Advanced Driver Assistance Systems (ADAS), next-generation infotainment systems and new-age dashboards in luxury vehicles.
As thermal management is crucial for automotive memory applications, Samsung's 256GB eUFS extends the temperature range to between -40°C and 105°C for both operational and power-saving modes. Warranties for conventional embedded multimedia card (eMMC) 5.1 solutions generally cover -25°C to 85°C for vehicles in operation and -40°C to 85°C when in idle or power-saving mode.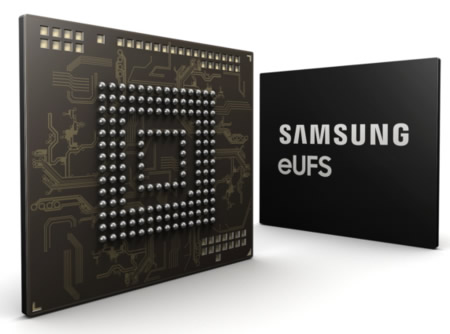 Samsung's 256GB eUFS not only can endure the new temperature specification, but also through its temperature notification feature, a sensor will notify the host application processor (AP) when the device temperature exceeds 105°C or any pre-set level. The AP would then regulate its clock speed to lower the temperature to an acceptable level.
Sequential reads for the 256GB eUFS can reach 850 megabytes per second (MB/s), which is at the high end of the current JEDEC UFS 2.1 standard, and random read operations come in at 45,000 IOPS. In addition, a data refresh feature speeds up processing and enables greater system reliability by relocating older data to other less-used cells.
The temperature notification, developed by Samsung, and data refresh features are included in UFS specification, version 3.0, which was announced last month by JEDEC, a global semiconductor standards organization.