Toshiba Launches New e•MMC and UFS Memories with Updated Controllers
Toshiba has launched new e•MMC and UFS NAND flash embedded memories that use enhanced integrated controller technologies to deliver significant read and write speed improvements. In contrast to "raw" NAND flash memory solutions, e•MMC (Embedded Multimedia Card) and UFS (Universal Flash Storage) devices combine flash memory and the corresponding controller in a single package. This saves space and relieves host processors of the burden of key memory management functions including bad block management, error correction, wear levelling and garbage collection. As a result, e•MMC and UFS devices are easier to design in to systems than standalone memory ICs with a standard NAND Flash interface.
Toshiba's new 'Supreme+' e•MMC (JEDEC ver. 5.1) memories are available in capacities from 16GB to 128GB and are based on 15nm MLC NAND flash technology. Sequential read and write speeds of 320MB/s and 180MB/s are around 2% and 20% faster than the read and write speeds of Toshiba's previous devices. Also, random read and write speeds are about 100% and 140% higher than previous devices.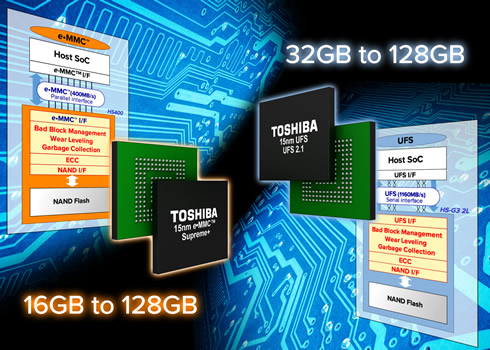 While e•MMC reaches a theoretical limit with an 8bit parallel interface of 400MB/s, UFS memory extends interface performance through high-speed differential signaling using the MIPI M-PHY interface. This results in a theoretical performance of 1166MB/s by supporting a two-lane MIPI M-PHY HS-G3 interface.
The new UFS (JEDEC ver 2.1) devices are also based on 15nm MLC NAND flash technology and are availablke in capacities ranging from 32GB to 128GB. Compared to previous devices sequential read and write speeds of 850MB/s and 180MB/s represent improvements of around 40% and 16%. Also, random read and write performances are about 120% and 80% higher, respectively.
Toshiba manufactures both the flash memory and the controller technology deployed in its e.MMC and UFS memory devices. The company also developed in-house the analogue M-PHY 3.0 core and digital UniPro 1.6 core that are integrated with the new UFS controller.