Xiaomi Announces The Mi Note 2 With 3D Curved Glass, The Edgeless Design Mi MIX Smartphones And the The Mi VR
Xiaomi's newly announced Mi Mix phablet has an impressive 6.4-inch bezel-less screen, while the the Mi Note 2, which looks similar to Samsung's ill-fated Galaxy Note 7, joins the new Mi VR headset. Mi MIX
Xiaomi's new Mi Mix phablet is very sci-fi with its 91.3 percent screen-to-body ratio. This 6.4-inch device has a price, ¥3,499 ($516), and a release date of November 4th in China.
The impresive handset features full ceramic body, a display that is curved at the corners and a custom 17:9 ratio. In order to maximize the screen space, Xiaomi repositioned the front camera, remove the proximity sensor and earpiece. The proximity sensor has been replaced by ultrasonic, the earpiece has been replaced with a piezoelectric speaker that uses the metal frame to generate sound, and the front-facing camera is relocated to the bottom.
Under the hood, the Mi Mix has the latest Snapdragon 821 chip, 4GB of RAM and 128GB of storage. it also offers support for two SIMs, and has a 192Hz / 24-bit DAC chip for higher-resolution audio.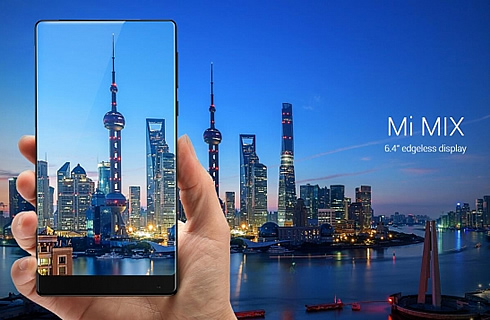 There'll also be a ¥3,999 ($590) option with 6GB of RAM, 256GB of storage, and 18-karat gold accents around the camera and fingerprint sensor on the rear of the Mix. The battery weighs in at 4,400mAh and the rear camera comes in at 16 megapixels with phase-detect autofocus and rotates for selfies.
Xiaomi recruited noted French designer Philippe Starck to lead the design effort.
Mi MIX Highlights:
6.4" edgeless display: Ultra-high 91.3% screen-to-body ratio
Full ceramic body: Ceramic back cover, frame, and side buttons, 8 MoHs hardness. Seamless connectors fuse Mi MIX's body without any external adhesives
Cantilever piezoelectric ceramic acoustic technology replaces the traditional earpiece speaker, allowing you to listen to calls without the earpiece
Ultrasonic proximity sensor hidden behind the display, replaces traditional infrared proc sensor
Custom 17:9 display, large 16:9 viewing area even with soft keys
Soft keys with auto-hide Quick Ball allow easy navigation and reachability
Compact front camera, 50% smaller than traditional camera modules, imperceptibly located along Mi MIX's "chin"
Custom round-edged display allowed us to create an edgeless viewing experience
Snapdragon 821 at 2.35GHz
4GB LPDDR4 RAM + 128GB UFS 2.0 storage; 6GB + 256GB (Mi Mix 18k)
4400mAh battery, Quick Charge 3.0
Full NFC Functionality: Read, write, card emulation, P2P, Mi Pay ready
HD audio quality, 192kHz / 24-bit resolution
GPS high-precision positioning
16MP PDAF rear camera
MIUI 8
Mi MIX 18k with 18-karat gold rims around camera and fingerprint sensor; 6GB + 256GB
RMB 3499 (4GB + 128GB, approx USD 516); RMB 3999 Mi MIX 18k (6GB + 256GB, approx USD 590 )
Mi Note2
The new Mi Note 2 is a smarthone that looks similar to Samsung's Galaxy Note 7.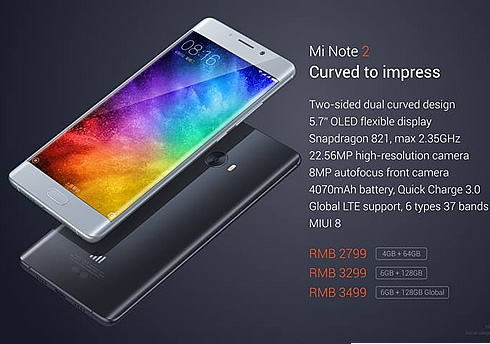 Seamless 3D curved glass on the front and back houses a flexible OLED display; The rear camera is a 22.56MP high-resolution sharp shooter and super steady with EIS hardware-level 4K video stabilization. Mi Note 2 also comes with global LTE bands (6 types, 37 bands), ready for your next globetrotting adventure. Check it out:
Two-sided dual curves: Front + back 3D curved glass, 7-series aluminum frame
5.7" OLED flexible display, 77.2" screen-to-body ratio
Snapdragon 821 max 2.35GHz, 10% faster start-up for large apps
Up to 6GB LPDDR4 RAM + 128GB UFS 2.0 ROM
22.56MP high-resolution camera, EIS hardware-level 4K video stabilization, camera lens with Sony Exmor RS IMX318 ISP
8MP front camera with autofocus, Beautify 3.0, max Aperture of F/2.0, camera lens with Sony Exmor RS IMX268 ISP.
Global LTE bands: 6 types, 37 bands
4070mAh battery, Quick Charge 3.0
Full NFC functionality: Read, write, card emulation, P2P
HD audio quality, 192kHz / 24-bit resolution with lossless support
GPS high-precision positioning
Price
4GB + 64GB: RMB 2799 (Approx. $413)

6GB + 128GB : RMB 3299 (Approx. $487)
6GB + 128GB Global : RMB 3499 (Approx. $516)

Mi VR Headset with Improvised 9-Axis Motion Controller
In today's Mi Product Launch Event, Xiaomi has also launched Mi VR in China priced at only ¥199 (Approx. $29).
Made specifically for Xiaomi smartphones, the Mi VR has a hardware motion sensor inside, a 16ms latency time, and comes with a 9-axis motion controller. THis means that games and video should be smoother, with less chance of feeling dizzy or sick, and playing them will be much easier and more intuitive than with Cardboard or the Mi VR Play headset.
Currently, you'll need to own the Mi 5, the Mi 5S, Mi 5S Plus, or the new Mi Note 2 to enjoy virtual reality through the Mi VR. Once the phone's slotted into the front of the headset, visit Xiaomi's own app store to find a selection of apps and videos made for the device.
Mi VR Highlights
Built-in dedicated motion sensor
16ms ultra-low latency
9-axis inertial motion controller

Compatible with Mi Note 2/ Mi 5s/ Mi 5s Plus/ Mi 5