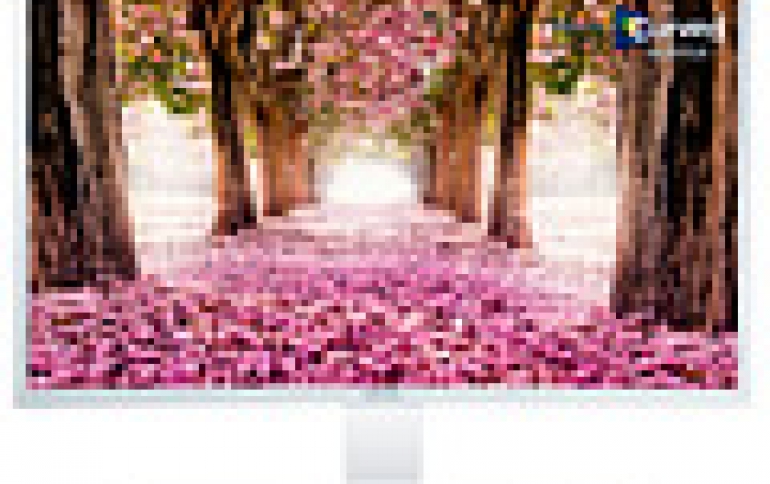 Samsung Expands Its Lineup of Curved Monitors
Samsung Electronics is expanding its curved monitor line up with five new models, highlighted by the 29-inch SE790C, 31.5-inch SE590C and 27-inch SE591C. Completing the lineup are the new 23.5- and 27-inch SE510C.
The new curved monitors feature Vertical Alignment (VA) panel technology, which provides an optimal level of curvature, high contrast ratio and reduced backlight bleed. These panels complement the natural curve of the human eye.
The SE590C joins the SE790C in providing viewers with a 3000R (curvature radius of 3,000 mm) curvature design. Along with the 4000R radius curvature of the SE591C and SE510C, the design of Samsung Electronics' curved monitors creates a distortion-free viewing with reduced reflection, less eye strain and comfort.
An eye-saver mode, which offers low blue light technology, helps to reduce the harmful effects of blue light on viewers? eyes and associated eye strain, particularly during extended periods of screen use.
Similarly, the monitors? flicker-free function protects viewers' eyes from the constant strain of flickering screens that can be experienced with standard monitors.
The monitors feature static contrast ratios ranging from 5000:1 for the SE590C to 3000:1 for most standard models and high brightness - up to 350 cd/m2 with the SE590C and SE591C. They also come with a game mode that detects changes in scenes by correcting blurry images, enhancing colors and altering contrast for improved visibility of in-game action.
The monitor's new eco-saving plus function offers the benefits of eco-saving technology by reducing screen brightness for increased energy efficiency. In addition to two standard manual settings, there is an auto-setting that reduces energy consumption by approximately 10 percent (based on the luminescence of the screen's black sections).
Samsung Electronics' 2015 lineup of curved monitors includes:
SE790C Series - As the flagship of Samsung? curved monitor portfolio, the 29-inch SE790C features a3000R radius curvature and Wide Full High Definition (WFHD) resolution. The SE790C also offers a static contrast ratio of 3,000:1 and 21:9 wide display aspect ratio. The monitor's design includes a height-adjustable stand (HAS) and VESA mount support, in addition to Picture-by-Picture (PbP) and Picture-in-Picture (PiP) 2.0 functionality. The SE790C is equipped with built-in 7-watt dual stereo speakers.
SE590C Series - The 31.5-inch SE590C has a 3000R radius curvature, a contrast ratio of 5,000:1and a brightness of 350 cd/m2. Two built-in 5W dual stereo speakers and a proprietary sound engine are also included.
SE591C Series - Offering the same contrast ratio and brightness of the SE590C, the 27-inch SE591C curved monitor has a a 4000R radius curvature and a white glossy body.
SE510C Series - Available in 23.5- and 27-inch models, the SE510C entry-level curved monitors are suited for tech-savvy consumer. The curved monitors' feature a contrast ratio of 3,000:1 and 4000R radius curvature.
Model

SE790C

SE590C

SE591C

Model Name

S29E790C

S32E590C

S27E591C

Design

Curved Display

Display
Size

29" (21:9)

31.5" (16:9)

27" (16:9)

Curvature

3000R

3000R

4000R

Resolution

Wide FHD (2560?1080)

FHD (1920?1080)

Response Time

4ms (GTG)

Brightness

300 cd/m2

350 cd/m2

Contrast Ratio

3000:1

5000:1

3000:1

Color Support

16.7M (8 bit)

Viewing angle

178:178 (H/V)

Design
Color(s)

Black & Metallic Silver

Black & Metallic Silver

White High Glossy

Stand Type

Curved T-Shape

Height Adjustable Stand (HAS)

100 mm

N/A

N/A

Tilt

-2~ 20 degrees

0 ~ 15 degrees

-2 ~ 20 degrees

Wall Mount

100x100

200x200

100x100

Essential Features
PIP 2.0, PBP, Flicker Free, Eye Saver Mode, Game Mode, Off Timer, Image Size, Samsung MagicBright, Sound Mode,
Eco Saving Plus
Flicker Free, Eye Saver Mode, Game Mode, Off Timer, Image Size, Samsung MagicBright, Sound Mode, Eco Saving Plus
Model

SE510C

Model Name

S24E510C

S27E510C

Design

Curved Display

Display
Size

23.5" (16:9)

27" (16:9)

Curvature

4000R

Resolution

FHD (1920?1080)

Response Time

4ms (G2G)

Brightness

250 cd/m2

Contrast Ratio

3000:1

Color Support

16.7M (8 bit)

Viewing angle

178:178 (H/V)

Design
Color

Black

Black

Stand Type

Curved T-Shape

HAS

N/A

Tilt

1 ~ 20 degrees

-2 ~ 20 degrees

Wall Mount

100x100

Essential Features

Flicker Free, Eye Saver Mode, Game Mode, Magic Upscale, Off Timer, Image Size, Samsung MagicBright, Eco Saving Plus