Samsung FItPlus 128GB USB Stick
1. Introduction
Samsung has many lines of USB portable drives. Today we will examine a small but powerful USB drive, the FitPlus series. This lineup of USB flash drives promises small dimensions with increased performance.
- Features
Plug in and stay
Designed to plug in and stay. Expand your storage with the FIT Plus, a compact flash drive, seamless and unobtrusive. Instant storage for your laptops, tablets, TV's, car audio systems, gaming consoles, and more.
Store more. Leave it in.
Extra storage in a seamlessly fitting design. Leave it in your devices with reduced risks of accidental bumps or removal. Enough capacity for your favorite tunes, irreplaceable photos/videos, important work documents, and personal files.
Quick. Convenient.
Save time, add space. Quick and convenient read speeds up to 400 MB/s with the latest USB 3.1 standard to ensure transferring data never slows you down. Send a 3GB 4K UHD video file from your FIT Plus to your PC in just 10 seconds. Up to 400MB/s for 256/128GB models; Up to 300MB/s for 64GB model and up to 200MB/s for 32GB model.
Tough & Trusted
Files stay secure, anywhere you go. Samsung's leadership in flash memory makes the FIT Plus a trustworthy drive to store your valuable data. It works through it all with a waterproof¹, shock-proof², temperature-proof³, magnet-proof⁴, and X-ray-proof⁵ body, all backed by a 5-year limited warranty⁶.
¹Up to 72 hrs in seawater.
²Up to 1,500 gravitational acceleration.
³Withstands -25°C to 85°C operating, -40°C to 85°C non-operating.
⁴Up to 15,000 gauss (equal to MRI).
⁵Up to 50 Roentgen (equal to airport X-ray machines).
- Full specs
USB 3.1 Flash Drive (backwards compatibility with USB 3.0/2.0)
Interface USB 3.1
Capacity 128GB (1GB=1,000,000,000 bytes)
Data Transfer Speed Up to 400MB/s read speed for USB 3.1, write speed is lower than read speed.
Water-resistant Yes; 1m depth 3% NaCl salt water, 72hrs
Weight Approx. 3.1 g
Product 5 years limited
Product dimensions0.93" x 0.74" x 0.29"
- Retail package
The Samsung Fit Plus can be found online at the following capacities/price and reading performance (as stated in specs)
Capacity

32GB

64GB

128GB

256GB

Price

10 Euro

12.5 Euro

23 Euro

39 Euro

Reading performance (Mb/sec)

200

300

400
For our tests we got the 128GB model. The retail package is attractive and gives you details about the product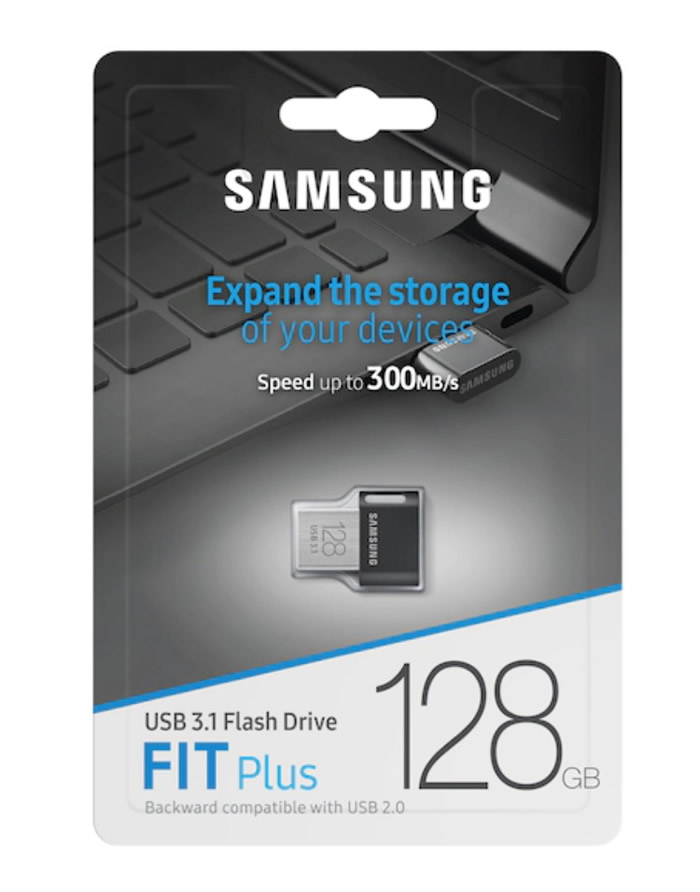 Unpacking the USB flash drive you can see it in detail, very small and light. At the front there are several printed logos indicating the Samsung brand and capacity. There is also a hole for attach to you lanyard keys.