Samsung Galaxy On5 and On7 Smartphones Showcased in India
Samsung Electronics showcased the Galaxy On5 and On7 Android-powered budget smartphones in India on Tuesday, as the company tries to further strengthen its presence in the Asian country. The Galaxy On5 and and On7 models will come with a price tag of 8,990 Indian rupees (US$137.2) and 10,990 Indian rupees respectively, the company said.
The two devices will be powered by the Android 5.1 operating system. While the Galaxy On5 features a 5-inch (12.7cm) super AMOLED display and a 2600 mAh battery, the Galaxy On7 comes with 5.5-inch (13.97cm) super AMOLED display and a 3000 mAh removable battery.
The two phones are powered by Samsung's Exynos 3475 quad-core processor, and come with 1.5GB of RAM, 8GB of internal storage, micro SD card slot and 5-megapixel front camera.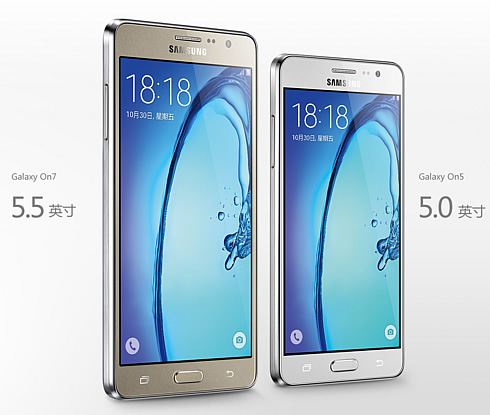 The Galaxy On5 ships with an 8-megapixel rear-facing camera, and the Galaxy On sports a 13-megapixel snapper on the back.
The new devices will also feature Samsung?s music streaming service called "Milk Music."
Last month, the South Korean company released the Samsung Z3 in India, an upgrade from the Samsung Z1 released earlier this year that runs on the Tizen platform.
According to industry sources, Samsung plans to release new low-end devices at the end of this year.