Samsung Introduces First 1 Terabyte mSATA SSD
Samsung will launch this month the 840 EVO mSATA (mini-Serial ATA) Solid State Drive (SSD) line-up, which includes the first 1 terabyte (TB) mSATA SSD. The Samsung 840 EVO mSATA SSD is an extension of Samsung's 840 EVO line-up which was introduced in July. The new SSD features the compact mSATA form factor which is approximately a quarter size of a 2.5-inch SSD, and promises to offer the same level of high density and performance.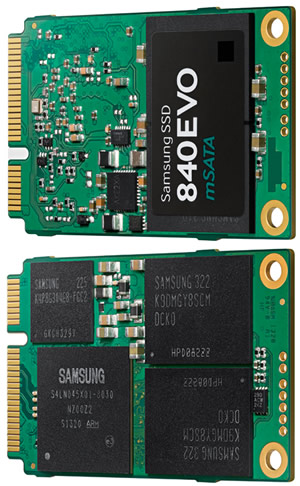 The 840 EVO mSATA SSD utilizes Samsung's 128 gigabit (Gb) TLC NAND flash memory based on the 19nm process technology. To form a 1TB version SSD, a total of four flash memory packages are used, each package having 16 layers of 128Gb chips. The SSD comes in a thickness of 3.85 millimeters and a weight of 8.5 grams, which are approximately 40 percent and a twelfth of a typical hard disk drive (HDD) respectively.
The 840 EVO mSATA SSD line-up is available in 120 gigabyte (GB), 250GB, 500GB and 1TB, and uses Samsung?s proprietary controller and TurboWrite technology. The 1TB version offers 98,000 random read and 90,000 random write IOPS (Input Output Operations Per Second), as well as sequential read and write speed of 540 megabytes per second (MB/s) and 520 MB/s.
Especially, the new 840 EVO mSATA SSD can be used along with another data storage device embedded on a notebook, either HDD or SSD, as long as the notebook has the mSATA socket. The new mSATA line-up is also offered with Samsung Magician 4.3, a software solution that allows the maximum of over 1,000MB/s sequential read speed on RAPID (Real-time Accelerated Processing of I/O Data) mode, which is a performance level of approximately twice that of a typical SATA SSD and ten times of an average HDD. Samsung also applied Samsung Magician 4.3 and the RAPID mode on its previous 840 PRO SSD line-up.
Applying 256-bit AES keys, the new mSATA SSD offers data security, and is compliant with TCG Opal and IEEE 1667 standards. Users can also move their data to the new SSD using Samsung Data Migration as well as Samsung Magician 4.3 which are compatible with Windows 8 and support 10 languages.
The 840 EVO mSATA SSD line-up will be available this month globally.
According to research firm iSuppli, Samsung ranked first with a 22 percent share in the global SSD market last year. The global market for SSDs is expected to reach some US$10 billion this year, up around 40% from last year?s US$7 billion, iSuppli estimates.