Samsung Introduces First 256GB Universal Flash Storage for Mobiles
Samsung Electronics announced today that it is now mass producing the first 256-gigabyte (GB) embedded memory based on the Universal Flash Storage (UFS) 2.0 standard, for high-end mobile devices. The newly introduced embedded memory promises outstanding performance for mobile devices that exceeds that of a typical SATA-based SSD for PCs.
"By providing high-density UFS memory that is nearly twice as fast as a SATA SSD for PCs, we will contribute to a paradigm shift within the mobile data storage market " said Joo Sun Choi, Executive Vice President, Memory Sales and Marketing, Samsung Electronics.
The new Samsung UFS memory is based on Samsung's most advanced V-NAND flash memory chips and a specially-designed high-performance controller. The UFS memory handles up to 45,000 and 40,000 input/output operations per second (IOPS) for random reading and writing respectively, over two times faster than the 19,000 and 14,000 IOPS of the previous generation of UFS memory.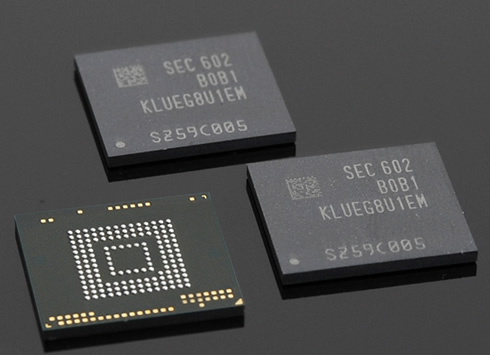 For sequential reading, the 256GB UFS takes advantage of two lanes of data transfer to move data at up to 850MB/s, which is nearly twice as fast as a typical SATA-based SSD used in PCs. In terms of sequential writing, it supports up to 260MB/s, which is approximately three times faster than high-performance external micro SD cards.
The company said the 256-GB UFS will be suitable for high-end smartphones, as it allows faster data transmission between handsets and other devices through the USB 3.0 interface.
Samsung said it is possible to transmit a 5GB movie file in 12 seconds.
Samsung announced availability of its 128GB UFS memory in February of last year. In just one year, it has doubled the capacity and speed of UFS memory.