Samsung, LG To Showcase Their Latest Display Technologies At SID
The world's biggest display makers will showcase their latest technologies and prototypes during the Society for Information Display's Display Week 2013 (SID) fair in Canada. LG Display will have on display a 5-inch flexible OLED screen to be mounted on its smartphone, which is expected to hit the market later this year. The company will also showcase 5-inch and 7-inch HD Oxide TFT panels for smartphones and tablet PCs. LG display claims that these lightweight panels consume less power than their traditional equivalents. The 5-inch HD panel will feature 1.0mm bezel allowing production of borderless smartphones that are lightweight and emit significantly less heat. The 7-inch HD LCD panel is equipped with touch function-embedded technology.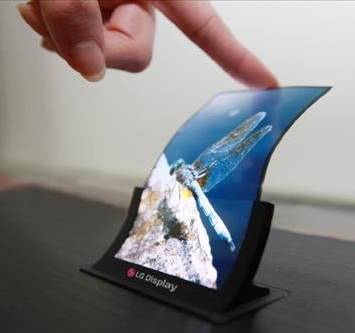 LG Display will also demonstrate its curved 55-inch OLED TV, as well as its standard 55-inch OLED TV at SID 2013. This one is based on the same WRGB OLED technology as the standard set.
LG Display will also present a new type of LCD which is claimed to can depict the highest level of color reproduction ratio for implementation across various industries. Products, on exhibit, applying this technology include a transparent 47-inch LCD panel for refrigerators featuring a 15% increase in transparency while maintaining NTSC 72% or the same as generic HDTVs, a 12.3-inch Full HD LCD panel for automotive dashboards with 800nit high brightness and 85% color reproduction ratio, and a 24-inch Adobe RGB monitor panel for professionals with 100% color reproduction ratio.
Samsung Display also said it plans to showcase several mobile to extra-large-sized display prototypes at the fair, including a full HD mobile AMOLED display with the world's broadest color gamut, and an 85-inch Ultra HD LCD TV panel.
Samsung Display's 85-inch ultra HD TV panel showcases a LCD technology that enables local-dimming control in a direct LED-based LCD panel. Samsung says that the panel can save 30 percent of typical LED BLU power consumption. Its local-dimming control enables vivid color rendering including incredible black images, 80 percent brightness uniformity, and an enhanced contrast ratio.
Samsung Display claims that its already mass-produced 4.99-inch full HD mobile AMOLED display offers the world's broadest color gamut with a 94 percent average rate of reproduction for the Adobe RGB color space. The Adobe RGB standard is about 30 percent broader than general sRGB standards.
The company will also demonstrate a new Diamond Pixel technology at the show. This technology, based on the idea that the human retina reacts more to green than other colors, places more green than red and blue pixels in the pixel structure of AMOLED display panels. With the new technology, Samsung's Full HD AMOLED display can provide text messages 2.2 times clearer than HD (1280?720) displays. So, when curvilinear letters on the panel are magnified two or three times, Samsung's Diamond Pixel technology enables text to be reproduced more smoothly (fewer "jaggies") and accurately than those produced with conventional LCD technology.
Samsung's 4K Ultra HD TV in 65- and 55-inch models will launch in South Korea next month. They will feature Samsung's upgradeable Smart TV platform and the "micro dimming ultimate" LED lighting.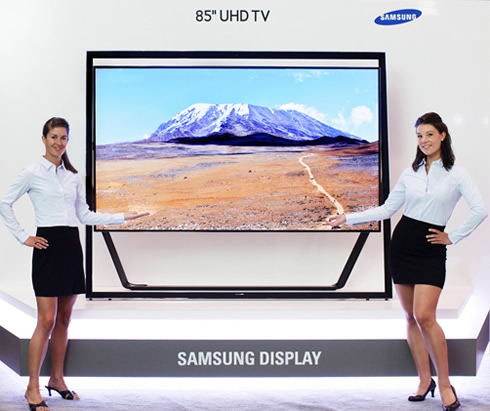 Samsung's low-power solutions for smart devices such as smart phones and tablet PCs will be also presented at the show. These include a 10.1-inch WQXGA (2560 x 1600) and a the 13.3 inch QHD (3200 x 1800) LCD panel display, which both consume 30% less power than existing panels. Samsung 's 13.3-inch QHD 3200 x 1800 panel could set the standard for notebook displays, coming with a with 276 pixels-per-inch (PPI) - a greater pixel density than Apple's Retina MacBook Pro 13 (227 ppi), Toshiba's Kirabook (221 ppi), and Google's Chromebook Pixel (239 ppi).
Also, Samsung is spotlighting a 23-inch multi-touch LCD display that can detect 10 touch points simultaneously.
The Society for Information Display's Display Week 2013 runs in Vancouver from May 21 to 23.