Samsung Remains on Top in Smartphone Shipments Worldwide, Despite iPhones' Sales in Q4 2019
Apple took the crown from Samsung in the rankinh og smartphone sales in the last quarted of 2019, but Samsung remains on top of the list for the whole 2019.
Global smartphone shipments grew 1% in Q4 2019, the second consecutive quarter of growth, as the market hit 369 million units, according to data released by Canalys. For the specific persiod, Apple led the market, exploiting strong demand for iPhone 11 models to increase 9% to 78 million units. Samsung shipped 71 million units to maintain its positive momentum, growing 1%. Huawei took third place, but declined 7% amid its ongoing US Entity List saga, as its overseas business offset growth in China. Xiaomi took fourth place, growing 23% to 33 million units, while Oppo took fifth growing 2% to 30 million units.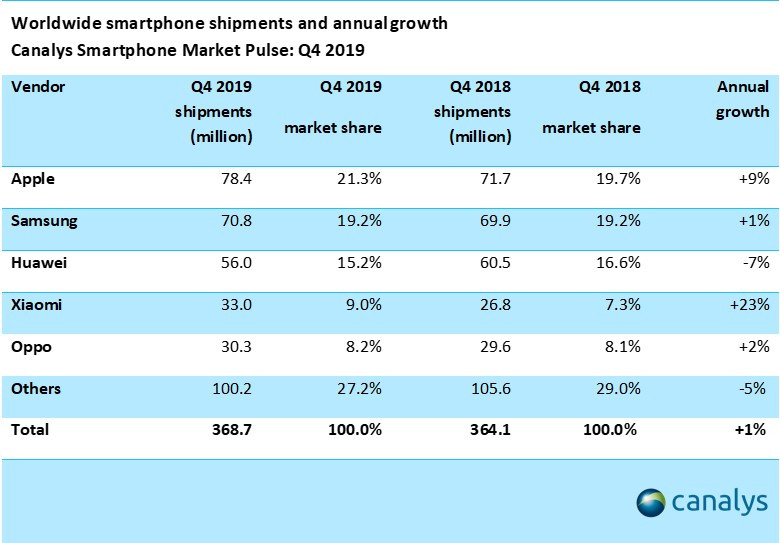 One of the success stories in Q4 came from emerging markets. "Chinese vendors were particularly diligent in developing regions over the past quarter," said Research Analyst Shengtao Jin. "Smartphones under US$100 have been a major focus, as vendors targeted the installed base of users still using feature phones. Vivo, for example, had exceptional success with the cheap Y91C in Indonesia this quarter. Apple also saw success in emerging regions as the cheaper iPhone 11 tempted a broader base of customers than it is used to."
In 2019 the worldwide smartphone market fell by 2% to 1.37 billion units, compared to 2018. This was despite global market growth in Q3 and Q4.
Ultimately Samsung retained the lead in the 2019 smartphone market with 21.8% share and 298.1 million units, growing 2%. Huawei was second with 17.6%, followed by Apple with 14.5% of the global smartphone market in 2019.