Samsung Unveils 8K QLED TV at IFA 2018
During its press conference at IFA 2018, Samsung Electronics announced its foray into 8K with the unveiling of the Q900FN QLED 8K TV.
Available in the U.S. starting October in an 85" size, the Q900FN will feature all the benefits of Samsung's flagship QLED line and several enhancements that bring 8K-quality images to life.
"At Samsung, we've worked tirelessly over the years to move the industry forward when it comes to premium picture quality, and the introduction of the Q900FN with 8K AI Upscaling is an integral component as we look to the future of displays," said Jongsuk Chu, Senior Vice President of Visual Display Business at Samsung Electronics.
To achieve 8K-quality images, the Samsung Q900FN features Real 8K Resolution and is capable of 4,000 nit peak brightness, a standard employed by many Hollywood studios. This feature allows the Q900FN to produce four times more pixels than a 4K UHD TV and 16 times more pixels than a full HD TV. Q HDR 8K, powered by HDR10+ technology, optimizes the TV's brightness levels and delivers the visual experience intended by creators. The Q900FN has already received the official HDR10+ logo certification.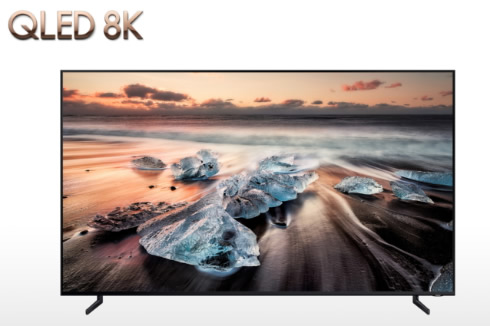 Samsung says its proprietary AI-powered 8K Upscaling technology enhances lower resolution content to 8K quality. Whether a viewer is watching content through a streaming service, set-top box, HDMI, USB or even mobile mirroring, the 8K Quantum Processor recognizes and upscales the content to appear in 8K quality. In addition, the Q900FN features Direct Full Array Elite for enhanced contrast and precise backlighting control, and as with all of our QLED models, it delivers 100% Color Volume.
The Q900FN features a slate of new functions. For example, the TV recognizes and analyzes a number of connected entertainment devices like audio devices connected via optical cable with the One Remote, then automatically switches the TV's image source and audio output. Lifestyle features, such as Ambient Mode, have been enhanced to blend the TV in the surrounding space and by showcasing beautiful images, weather, news and more on the screen. The One Invisible Connection, which comes standard at five meters and is also available in 15 meters, incorporates the optical cable and power into one thin cord, giving users more freedom to decide where and how they place the TV. Smart enhancements, such as SmartThings, further simplify the connected living experience, and the Universal Guide provides personalized recommendations to easily find live and OTT content on TV.
Samsung will showcase its latest television and audio announcements in its booth at IFA, located at the City Cube Berlin on Level 2.
The new Samsung QLED 8K will be available in stores from end of September.
Samsung also announced The Wall, a cutting-edge Micro LED screen designed for enterprise and out-of-home viewing environments. Complete with self-emitting display technology and a modular design, The Wall is fully-customizable to give users the freedom to decide how to incorporate the display in their space.
In addition, Samsung introduced a new 49" model to The Frame line-up with the addition of easy discovery, giving users easy access to specially-curated works of art that can be displayed on the screen without having to sort through hundreds of options. In addition, The Frame?s Art Store continues to expand, with more than 850 works of art from some of the world?s most renowned art institutions, including the Berlin State Museum, the Victoria & Albert Museum and the Tate.
Finally, sound quality continues to remain a top priority, with the introduction of the HW-N950 and HW-N850 premium soundbars from Samsung and Harman Kardon. Both soundbars support Dolby Atmos and DTS:X.