Samsung Wants To Transform the Way We Shop
Last week's Samsung's exhibition at IFA in Berlin has demonstrated how technology is transforming the world and the way we live in it - from connected cars to wearables, Samsung is making its mark on a variety of industries, including retail. In fact, between gargantuan video walls and customized displays, there were many signage solutions, giving IFA attendees a glimpse of the very near future of shopping.
One of the more attention-grabbing displays of the bunch is the 55-inch transparent OLED (T-OLED). Designed to add appeal to storefronts and showcases through improved aesthetics and unconventional advertising, the display allowed for the streaming of content without blocking a customer's view of what's behind the screen. The touch-ready T-OLED also boasted built-in speakers.
The 65-inch signage (DM65E-BR), with a high resolution and All-in-one Touch capabilities, is intended to keep guests in the store and shopping.
At IFA, Samsung illustrated how the DM65E-BR might specifically be used in a clothing store. On one display designated as a digital shopping guide, attendees could browse the brand's wares by flipping through an oversized lookbook to get an idea of which pieces look best together, or mix and match tops and bottoms to create a personalized look.
Next to it, the same display model was mounted and acted as a virtual fitting solution, boasting even more interactive options. A computer-generated model donning one of the brand's featured items could be rotated with a swipe of the finger to get a 360-degree view of the outfit. For a more accurate idea of what the clothing might look like on the shopper, the model's hair style and clothing size were able to be altered with a tap.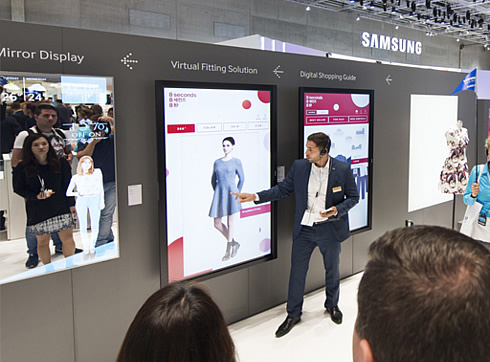 Once a customer selects items to try on, Samsung's Wi-Fi enabled, 55-inch Mirror Display greets consumers in the fitting room. Utilizing transparent and reflective OLED panels, the display could include information about the store's products as well as discount information.
After finding one's perfect outfit, the customer could utilize Samsung's 10.1-inch Small Signage (DB10E-POE) to obtain coupons for the specific products he or she is purchasing, and can even pay directly from one's smartphone via Samsung Pay.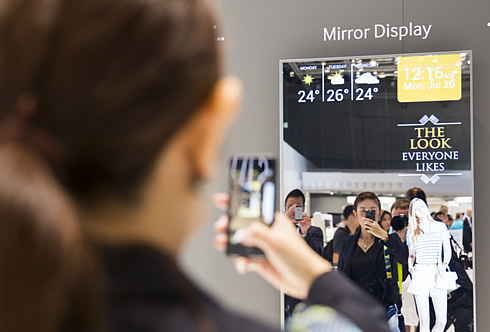 Samsung also showcased display models such as the 85-inch (QM85D-BR) and 48-inch (DM48E) signage. The company demonstrated that businesses could utilize these displays to create a system that keeps track of a customer's purchase history, shopping preferences and even wish lists through their smartphone.
Once the customer taps their mobile device to the screen, the QM85D-BR recognizes the shopper and as he or she navigates the store, connected displays such as the DM48E will present advertisements that include QR codes for discounts based on the shopper's preferences.