Samsung WEP185 BT Headset
1. Introduction
- Introduction

Buying a brand new Bluetooth headset is not an easy choice, especially if you have high expectations, low budget and no time to look around. After my older Sony Ericsson BT failed, it was time to look for something lighter, cheaper and hopefully more reliable. As usual, I walked to the closest consumer electronics store and after looking at several headsets on display, I chose a rather small and interesting BT, the Samsung WEP-185. At only 11 grams, it is one of the lightest headsets on the market and with acceptable battery life. So, how well will this headset serve my needs?
- Samsung WEP-185
Despite my search efforts, there's not a lot of information displayed on the official Samsung website. Actually, no information at all. I have no idea why this happens. In any case, I found the specs on the retail box:
Up to 6 hours of talk time
Up to 110 hours of standby time
Weight: 11 g
Charging time: 2 hours
Comfortable fit with air-gap type ear cover
Call waiting support
Last number redial
Call rejection support
Bluetooth version 1.2
10m range
- Retail Box
The retail price for the Samsung WEP185 is around €49, making it very affordable for everyday users. The retail package is typical, with the WEP185 product clearly visible through the plastic shell.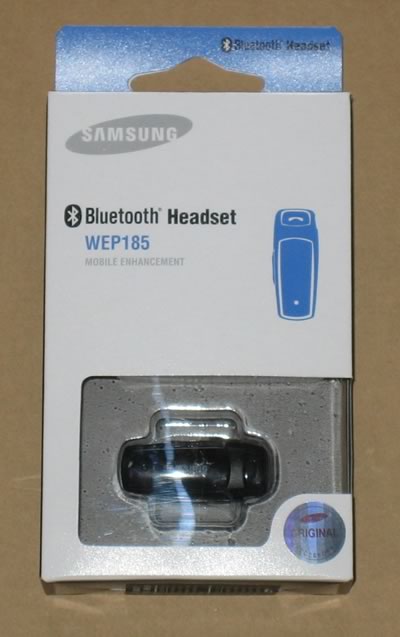 There are two security tapes that seal the retail box. If the security seals are broken, you maybe looking at a tampered device, possibly even a second hand product :-)