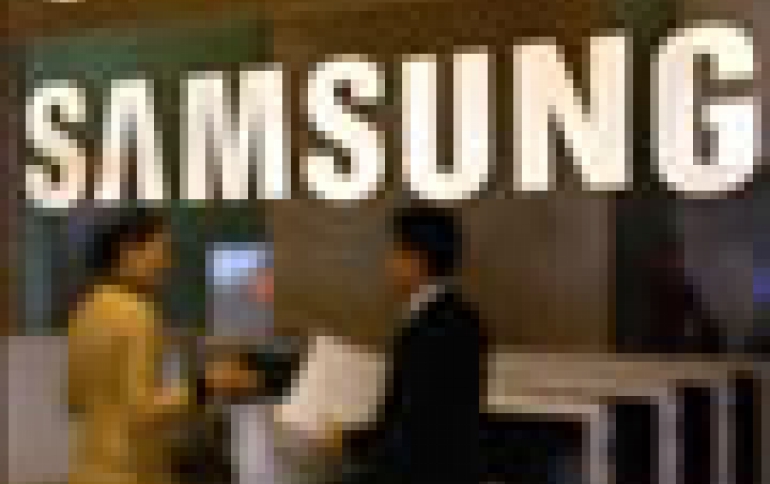 Samsung's Q1 Net Profit Down Due To Low LCD And Memory Profitability
Samsung Electronics today announced revenues of 36.99 trillion Korean won on a consolidated basis for the first quarter ended March 31, 2011, a 7-percent increase year-on-year. For the quarter, the company posted consolidated net income of 2.78 trillion won, representing a 30-percent decrease year-on-year. Consolidated operating profit for the quarter was 2.95 trillion won.
By business, Telecom, Semiconductor and Digital Media & Appliances drove revenue growth in the quarter. The Semiconductor Business saw sales jump 12-percent year-on-year thanks to stronger demand for NAND products used in smartphones and tablet PCs, while the Telecom segment continued to perform strongly with sales reaching 10.64 trillion won.
However, Samsung's overall net profit declined after the strong first quarter performance in 2010, weighed down by lower semiconductor memory prices and reduced profitability in LCD panels and TV sets.
"A difficult business environment remained in the first quarter, due to rising costs of raw materials, uncertainties in the financial market in Europe, and the devastating earthquake in Japan," said Robert Yi, Vice President and Head of Samsung Electronics' Investor Relations Team. "But we will actively respond to such challenges by enhancing cost competitiveness in memory products through geometry migration, launching new smartphones and tablet PCs, as well as increasing the sales focus on premium LCD panels and TVs."
Samsung forecasts that the challenging business conditions will persist in the second quarter, effected by lingering worries over the global economy and tight competition in consumer electronics and mobile businesses.
With regards to concerns over disruptions to the supply chain after the March 11 earthquake in Japan, Samsung expects the impact on its businesses to be relatively limited.
Samsung's Semiconductor Business recorded a consolidated operating profit of 1.64 trillion won in the first quarter, down from the 1.96 trillion won registered a year ago. Revenue reached 9.18 trillion won, a 12-percent increase year-on-year.
The Memory Division posted 5.87 trillion won in revenue for the quarter, a 5-percent bump up from a year earlier. Weak demand for PCs compounded by seasonal factors slowed sales of PC DRAM in the quarter, but orders for server DRAM and high-density memory used in smartphones and tablet PCs remained strong. Samsung sought to maintain profit margins by strengthening cost competitiveness through increased sales of 30nm-class DRAM and accelerated migration of 20nm-class processes in the NAND segment.
Sales for the System LSI Division doubled to 2.32 trillion won on-year, on the back of rising demand for smartphone application processors and image sensors. Mass production of dual-core processors following the launch of Samsung's own Exynos brand is expected to strengthen Samsung's position in the mobile application processor segment.
In the second quarter, business conditions in the key DRAM segment are expected to improve slightly. Increased demand for NAND and System LSI products will also sustain growth momentum, as smartphone and tablet PC makers introduce new models.
Samsung's Display Panel Business recorded an operating loss of 230 billion won on revenue of 6.51 trillion won, representing a 5-percent sales dip on the same period last year.
Overall market shipments of LCD panels declined 8 percent quarter-on-quarter due to weak seasonality, set-makers' conservative inventory management and slower sales in China. For Samsung, total panel shipments also decreased quarter-on-quarter, but were up by around 10 percent compared with the first quarter of 2010. Highlights included increased shipments of high-end LED panels and strong sales of tablet displays, which saw growth in the high 30-percent range.
Samsung forecasted that demand for LCD panels will begin to gather momentum in the latter part of the second quarter, as set-makers restock inventory for the peak sales season ahead. The business will focus on securing profitability through emphasis on differentiated products and enhanced manufacturing line efficiency.
The Telecommunications businesses - including mobile communications and telecommunication networks - posted an operating profit of 1.43 trillion won on revenue of 10.64 trillion won. The businesses maintained an operating profit margin of 13.5 percent for the quarter.
Samsung sold a total of 70 million mobile handsets during the quarter, down 14 percent year-on-year. However, strong sales of smartphones and high-end mobile devices helped to increase Samsung's average sales price and boost operating profit. Smartphones made up 18 percent of Samsung's total handset unit sales for the quarter, up from 4 percent during the same period last year.
In the second quarter, Samsung expects the industry to see single-digit growth in mobile handset demand quarter-on-quarter. The company aims to continue to outperform the market by launching of a range of devices to meet market needs. Continuing its momentum in the smartphone market, Samsung
is introducing the new GALAXY SII
during the second quarter, with the device slated to be rolled out by 140 mobile service providers in 120 countries. Samsung will also expand its tablet portfolio with the introduction of the GALAXY Tab 10.1, the thinnest, lightest device available on the market.
The Telecommunications Systems Business continues to focus on 4G infrastructure solutions, particularly the Long Term Evolution (LTE) market. Samsung aims to expand this business in Asia and North America, where LTE commercialization is accelerating.
Amid weak seasonality, Samsung?s overall shipments of flat panel TVs fell 31 percent to 8.8 million units from the previous quarter. Profit was driven by increased sales of LED TVs, which now make up 39 percent of TV sales.