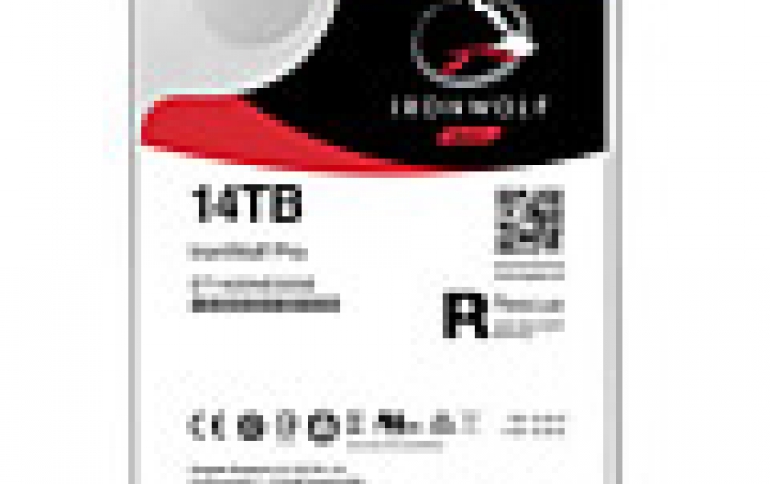 Seagate Unveils Advanced 14TB Data Storage Portfolio
Seagate Technology today launched a wid range of 14TB hard drives, consisting of the IronWolf and IronWolf Pro for network attached storage (NAS) applications, the BarraCuda Pro desktop drive, the surveillance-optimized SkyHawk, and the Exos X14 for hyperscale data centers.
IronWolf and IronWolf Pro drives for NAS applications provide reliability and performance for always-on environments. The are built with multi-user environments in mind, which allows a workload rating up to 300TB/year allowing users to do more with their data and their NAS. The drives are optimized with AgileArray firmware for NAS servers to provide benefits including: RAID performance, dual-plane balance, rotational vibration (RV) sensors, power management and error recovery control.
Additionally Seagate IronWolf Health Management and 2-year Seagate Rescue Data Recovery Services are available to Seagate's customers. Health Management embedded analysis and recovery software works with key NAS systems, providing comprehensive status updates and drive health analysis. IronWolf and IronWolf Pro drives feature a 3-year and 5-year limited warranty respectively.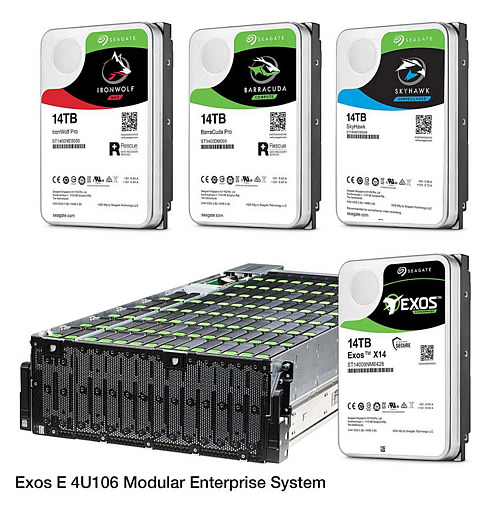 The BarraCuda Pro 3.5-inch HDD continues to offer professionals a storage solution for desktop workstations or direct attached storage (DAS) systems.
The BarraCuda Pro delivers 7200 RPM spin speed, along with 250mb/s data transfer rates and up to 256MB of cache, the highest available today, powered by Seagate's Multi-Tier Caching Technology (MTC), delivering performance in a 14TB of storage.
The BarraCuda Pro is backed by a 5-year limited warranty.
Seagate SkyHawk drives provide a combination of performance, high capacity and reliability, the three most important needs for surveillance integrators.
With the ability to store over 9000 hours of HD video and up to 64 HD cameras, the SkyHawk 14TB is optimized for DVRs and NVRs, tuned for 24/7 workloads, and equipped with ImagePerfect firmware to minimize dropped frames and downtime. Supported by a 3-year limited warranty, Seagate's customers can also benefit from SkyHawk Health Management technology that actively monitors and analyzes drive health.
Built for hyperscale data centers, Exos X14 drives offer enhanced areal density to deliver higher storage capabilities in a compact 3.5-inch form factor.
Seagate's new Exos X14 drives deliver 40% more petabytes per rack compared to Exos 10TB drives, while maintaining the same small footprint. The helium-based Exos X14 also provides a 10% reduction in weight versus air nearline drives, and flexible formatting for wider integration options and support for a greater number of workloads. Exos X14 also ships in a modular enterprise system (Exos E 4U106) for easy scaling up to a 1.4PB density.
Exos X14 drives feature "always-on" Seagate Secure protection, effectively encrypting all data without performance degradation. Exos X14 drives offer a 5-year limited warranty, and are designed to meet US Government Federal Information Processing Standard (FIPS) 140-2, Level 2 Security certification, as well as the Common Criteria for Information Technology Security Evaluation (CC) ISO/EIC 15408 compliance standard.
The IronWolf and IronWolf Pro 14TB are available at an MSRP of $529.99 and $599.99 respectively. The BarraCuda Pro 14TB is available at an MSRP of $579.99. The SkyHawk14TB is available at an MSRP of $509.99. The Exos X14 is available at an MSRP of $614.99.