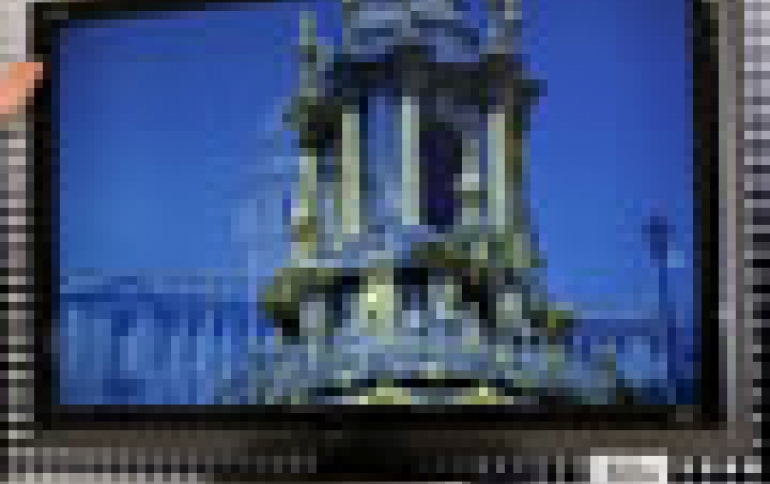 Sharp to Introduce New LX Series LED AQUOS
Sharp will introduce into the Japanese market four models (60V-inch, 52V-inch, 46V-inch, and 40V-inch) of the LX Series "LED AQUOS" LCD TVs from November 10, 2009. Coming on the verge of 2010, the tenth anniversary of the first AQUOS LCD TVs, this series employs a newly developed LCD panel and an LED backlight.
Further advancements in the LX Series give it both improved image quality and environmental performance, according to the Japanese company. Newly developed panels incorporate Sharp's proprietary UV2A photo-alignment technology for bright whites and extremely deep blacks (TV contrast of 2,000,000:1); and the LED backlight offers highly precise control of the light output. In addition, the combination of these newly developed panels and the LED backlight gives the LX Series high energy efficiency that results in the industry?s lowest level of energy consumption.
The LX Series offers a further evolution in digital image processing performance thanks to Sharp?s AQUOS High-Picture-Quality Master Engine image processing chip for highly precise reproduction of fast-moving images. The new Preferred Image Sensor not only adjusts to the room viewing environment and the on-screen content; it also automatically adjusts image and sound quality to the viewers? personal preferences. In addition, the new AQUOS Familink II makes it even more convenient to access the relevant functions of peripheral devices and thus easily control them while watching TV.
Sharp will also release the LED AQUOS globally later this year.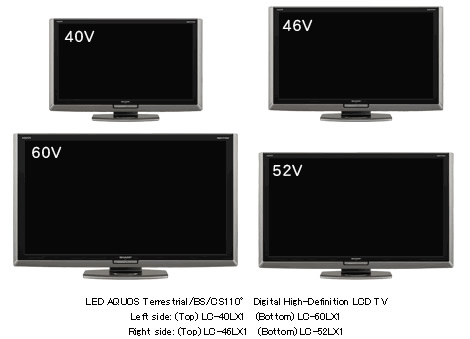 Model
 
LC-60LX1
LC-52LX1
LC-46LX1
LC-40LX1
LCD panel     
Screen size
60V-inch
(132.9 H x 74.8 V cm; 152.5 cm on the diagonal)
52V-inch
(115.2 H x 64.8 V cm; 132.2 cm on the diagonal)
46V-inch
(101.8 H x 57.3 V cm; 116.8 cm on the diagonal)
40V-inch
(88.6 H x 49.8 V cm; 101.6 cm on the diagonal)
Drive system
TFT (thin-film transistor) active-matrix drive
Resolution
1,920 H x 1,080 V pixels
TV contrast
2,000,000:1
Viewing angle
Vertical: 176°, horizontal 176°
Backlight source
Internal (white LED)
Speakers
 
2.0-cm diameter x 2, 5.5-cm diameter x 2, 6.5-cm diameter x 2
2.0-cm diameter x 2, 5.5-cm diameter x 2, 6.5-cm diameter x 2
2.0-cm diameter x 2, 6.5-cm diameter x 3
Max. audio output (JEITA)
 
Total 30 W (7.5 W + 7.5 W + 15 W)
AC power supply voltage
 
100 V AC, 50/60 Hz
Power consumption
 
275 W
192 W
172W
145 W
Standby power consumption
 
0.1 W
Annual power consumption
 
211 kWh/year
168 kWh/year
143 kWh/year
118 kWh/year
Main unit dimensions 
Display section only
150.0 W x 14.3 D (7.0 at thinnest section) x 89.3 H cm
129.9 W x 14.0 D (6.7 at thinnest section) x 77.4 H cm
116.2 W x 14.0 D (6.7 at thinnest section) x 69.6 H cm
102.1 W x 13.1 D (9.6 at thinnest section) x 62.1 H cm
With table stand
150.0 W x 36.1 D x 94.8 H cm
129.9 W x 28.7 D x 82.7 H cm
116.2 W x 28.7 D x 74.8 H cm
102.1 W x 24.7 D x 67.3 H cm
TV reception channels
 

VHF channels 1 to 12
UHF channels 13 to 62
Cable TV channels 13 to 63
Digital BS channels 001 to 999
Digital CS110° channels 000 to 999
Digital terrestrial channels (excluding One-Seg) 011 to 528
(with cable TV pass-thru)

Input/output jacks
 

HDMI input (3 sets)
D5 video input (2 sets)
S2 video input
Video input (3 sets)
Analog RGB input (with audio input jack)
Monitor output (with S2 jack; doubles as video input and recording output jack)
Headphone output
Digital audio output (optical)
IrSS infrared receiver
B-CAS card slot
VHF/UHF antenna input
BS/CS110° antenna input
Telephone line (2,400 bps)
LAN (10Base-T/100Base-TX)
Controller (RS232C)
AC power input

Accessories
 
Table stand (pre-assembled with main unit), wireless remote control, AAA dry cell battery (alkali), power cord, B-CAS card, tipover-prevention hardware, operation manual, easy user's guide, warranty card
Release date (Japan)
 
November 25
November 10
Estimated price
 
550,000 Yen
450,000 Yen
350,000 Yen
250,000 Yen