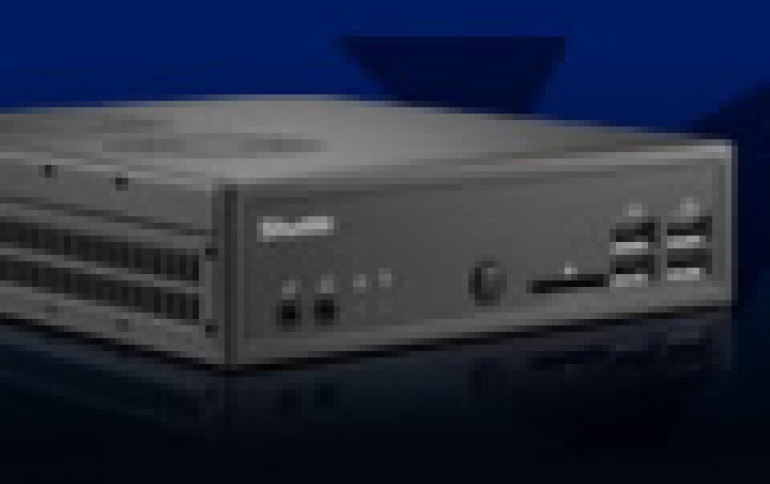 Shuttle Releases Temperature-resistant Barebone PC For Playback of 4K Content
One of the most popular solutions in the Shuttle product range is now available in an alternative version. The DS81L has all the properties of the DS81, but with a 12 V supply voltage instead of the standard 19 V. This special feature enables the use of alternative, stabilised energy sources instead of the supplied 84 W power supply unit.
The motherboard of the DS81L uses the Intel H81 chipset and is therefore compatible with a large number of Intel desktop processors with LGA1150 socket (up to a TDP of 65 W). The two SO-DIMM sockets can support a total of 16 GB DDR3 memory. An SATA 6 Gbit/s port is available for 2.5" SSD or hard disk. 1x Mini-PCI-Express (half-size) and an mSATA slot offer additional expansion options, e.g. for WLAN or mSATA-SSD.
Where enough power is required, for instance, to play ultra-high-resolution 4K content (3840 x 2160 pixels), installation of an Intel Core i3 processor is recommended. The image signal can then be transmitted at 60 Hz via DisplayPort or 30 Hz via HDMI.
A dual-fan regulated heatpipe cooling system, packed in a steel case, enables operation at ambient temperatures between 0-50 °C.
Despite its small dimensions of 19 x 16.5 x 4.3 cm (DWH), the DS81L offers two Gigabit Ethernet interfaces, 2x USB 3.0, 2x DisplayPort, HDMI, audio, 2x RS-232 and card reader. At the back of the machine is a four-pin connector for remote power-on (e.g. in case of a fixed installation in an awkward position). If required, a jumper on the motherboard can put the machine in always-on mode so that it automatically boots up as soon as the operating voltage is present.
The recommended retail price for the Shuttle Barebone DS81L is EUR 166.00 (ex VAT). The machine described in this press release is available from specialist retailers Europe-wide now.
Specifications
Chassis
Nettop PC with black chassis made of metal
Dimensions: 190 x 165 x 43 mm (LWH) = 1.35 litres
Weight: 1.3 kg net and 2.1 kg gross
Two holes for Kensington Locks and numerous 
threaded holes (M3) at both sides of the chassis
Storage bay
1x 6.35 cm / 2.5" storage bay supports one hard disk or SSD drive
Device height: 9.5 or 12.5 mm (max.)
Operation System
This system comes without operating system. It is compatible with Windows 8 / 8.1, Windows 7, Linux
Mainboard / Chipset / BIOS
Mainboard: Shuttle FS81 (8 layer design)
Chipset: Intel H81 Express Chipset
(Intel DH82H81 PCH, code name "Lynx Point")
AMI BIOS in 8 Mbit EEPROM with SPI interface
All capacitors are high quality solid capacitors
Supports hardware monitoring and watch dog functionality
Supports Unified Extensible Firmware Interface (UEFI)
Supports power on after power failure
Power Adapter
External 84 W power adapter (fanless)
Input: 100~240 V AC, 50/60 Hz
Output: 12 V DC, max. 7.0 A, max. 84 W
DC Connector: 5.5 / 2.5 mm (outer/inner diameter)
Processor support
Socket LGA 1150 (H3) supports the fourth generation of
Intel Core i7 / i5 / i3 / Pentium processors
Maximum supported processor power consumption (TDP) = 65W
Codename "Haswell", 22nm process technology, up to 8 MB of L3 cache
Supports the new generation of "Haswell Refresh" processors
Not compatible with older Socket LGA 1155 processors.
Does not support the unlock-function of Intel K-Series processors.
The Processor integrates PCI-Express, memory controller
and the graphics engine on the same die (depends on processor  type)
Please refer to the support list for detailed processor support information.
Processor cooling: Heat pipe processor cooling with two 60 mm fans on the upper side of the chassis
Memory support
2x SO-DIMM slots with 204 pins
Supports DDR3-1333/1600 SDRAM memory (PC3-10600/12800)
The maximum memory clock rate depends on the processor type.
Supports Dual Channel mode
Supports max. 8 GB per DIMM,  maximum total size of 16 GB
Supports two unbuffered DIMM modules of 1.5 V
Integrated Graphics
The features of the integrated graphics function depend on the used processor type.
Supports Dual-Independent-Display at Full HD 1080p resolution
Supports Blu-ray (BD) playback with HDCP
Supports one 4K display running at 3840 x 2160 (2160p/60Hz) high resolution when connected to its DisplayPort video output
HDMI and DisplayPorts supports HD video plus multi-channel digital audio via a single cable
Optional D-Sub/VGA connector
Mini Slots
DS81L features two Mini expansion slots:
1) half size Mini-PCIe, supports PCIe 2.0 e.g. for WLAN cards [5]
2) full size mSATA, supports SATA 6G
e.g. for Mini SATA (mSATA) flash memory cards [6]
Audio
Audio Realtek ALC 662-VC High-Definition Audio
Two analog audio connectors (3.5mm) at the front panel: 
1) 2 channel line out (head phone)
2) microphone input
Digital multi-channel audio output: via HDMI and DisplayPort
Dual Gigabit LAN Controller
Dual Realtek 8111G Ethernet network controller (Gigabit)
Supports 10 / 100 / 1.000 MBit/s operation
With two RJ45 ports (dual network) supports Teaming 
Supports WAKE ON LAN (WOL)
Supports network boot by Preboot eXecution Environment (PXE)
Drive connectors
1x Serial-ATA III, 6 Gb/s (600 MB/s) bandwidth
1x Serial-ATA II, 3 Gb/s (300 MB/s) bandwidth
With Serial-ATA power connector (onboard)
Supports Unified Extensible Firmware Interface (UEFI) [2]
Card Reader
Integrated card reader 
Supports SD, SDHC and SDXC memory flash cards
Supports boot up from SD card
Front Panel connectors
Microphone input
Audio Line-out (headphone)
4x USB 2.0
SD card reader
Power button
Power LED (blue)
HDD LED (yellow)
Back Panel connectors
1x HDMI connector
2x DisplayPort connectors (DP, supports 4k resolution)
Optional 1x D-Sub VGA connector (Accessory PVG01)
2x USB 3.0
2x USB 2.0
2x Gigabit LAN (RJ45)
2x RS232 serial ports (5V/12V, 1x switchable to RS422 / RS485)
DC-input connector for external power adapter
Four pin connector (2.54 mm pitch) supports
- external power on button 
- Clear CMOS function
- +5V DC voltage for external components
Perforation for optional Wireless LAN antennas (2 holes)
Other onboard connectors
Power on after power fail (hardware solution, Jumper 4) [8]
1x analog VGA graphics output (2x10 pins, 1mm pitch) [9]
1x USB 2.0 (4 Pins)
2x serial interface (COM) occupied for back panel connectors
Fan connector (4 pins) occupied by the cooling system
LPC interface (2x10 pins)
Audio connectors (7x2 pins)
Speaker connector (2 pins)
Power connector for SATA drives (4 pins)