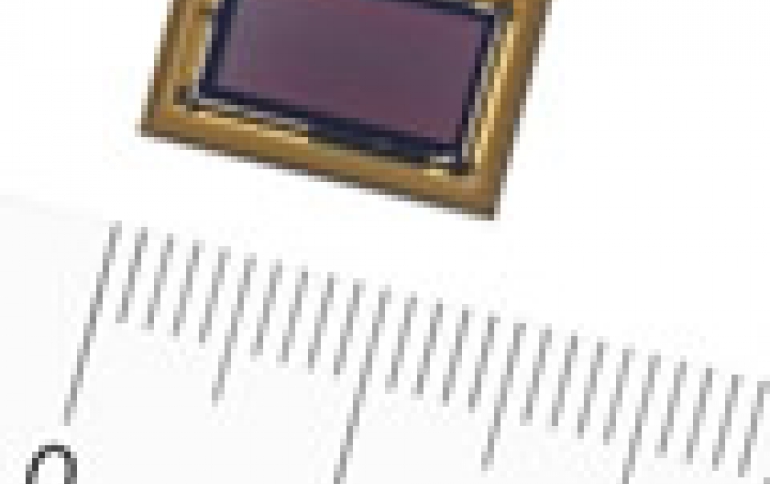 Sony Releases 7.42 Effective Megapixel Stacked CMOS Image Sensor for Automotive Cameras
Sony released of the IMX324, a new 1/1.7-type stacked CMOS image sensor equipped with the industry's highest resolution 7.42 effective megapixel RCCC filter for forward-sensing cameras in advanced driver-assistance systems (ADAS).
The company will begin shipping samples in November 2017, and mass production of the 10,000 JPY () module will start next June.
The image sensor is capable of approximately three times the horizontal resolution of conventional products, which enables high-definition image capture of distant road signs approximately 160 meters ahead of the camera. Furthermore, the sensor is equipped with a pixel binning mode for further raising the sensitivity in low-light environments, achieving a sensitivity of 2666 mV, making it possible to capture images of pedestrians and obstacles even in dark nighttime situations that are equivalent to the brightness of moonlight. Even in environments with uneven, mixed levels of brightness, due to headlights and streetlights when driving at night, the sensor is equipped with a function that alternately captures dark sections at high-sensitivity settings and bright sections at high resolution, enabling high-precision image recognition when combined with the signal processing of the latter stage.
This is the first time in the industry where a stacked configuration has been employed on an automotive grade sensor. This arranges the pixel array and signal processing circuit in layers to allow for a compact size and low power consumption while still delivering high resolution.
This image sensor is expected to be compatible with the "EyeQ4" and "EyeQ5" image processors currently being developed by INtel's Mobileye, for use in ADAS and autonomous vehicle technology.
This sensor is planned to meet the AEC-Q100 Grade 2 reliability testing standards for automotive electronic components by June 2018. Sony has also introduced a development process compliant with ISO 26262 automobile functional safety standards, to ensure design quality that satisfies the functional safety requirements for an automotive product, and this has led to its supporting functional safety requirement level ASIL B(D) for failure detection, notification, and control. Moreover, the new sensor comes with a security feature that protects the output image from being altered, which is the first application of such a function in an image sensor for automotive cameras.
Model name
IMX324
Number of effective pixels
3849 (H) x 1929 (V) 7.42 megapixels
Image size
Diagonal 9.69mm (type 1/1.7)
Unit cell size
2.25μm (H) x 2.25μm (V)
Frame rate
Full pixel reading
Max. 40 fps
Sensitivity (F5.6 standard value, 1/30 second exposure time)
784 mV (Clear Pixel), 2666 mV (pixel binning mode)
Dynamic range (EMVA1288 standard)
120dB
Saturation signal (minimum value)
800mV
Power supply
Analog
2.9V
Digital
1.1V
Interface
1.8V
Interface
MIPI CSI-2 serial output (4 lane / 2 lane)
Package
108pin plastic BGA
Package size
13.23mm x 8.97mm