SpaceX Launches AI robot in Dragon Resupply Mission
On Friday June 29, Falcon 9 successfully lifted for launch of its fifteenth Commercial Resupply Services mission (CRS-15) from Cape Canaveral Air Force Station, Florida. The SpaceX rocket carried, among other station supplies, the first orbiting robot with artificial intelligence.
Dragon spacecraft separated from Falcon 9's second stage and is on its way to the International Space Station, currently expected to arrive early on the morning of July 2nd.
Dragon was be filled with more than 5,900 pounds of supplies and payloads, including critical materials to directly support more than 250 science and research investigations that will occur onboard the orbiting laboratory. Most interestingly, the spacecraft carried the spherical AI bot named Cimon (Crew Interactive Mobile Companion); genetically identical mice, or mousetronauts; and super-caffeinated coffee for the crew of the International Space Station.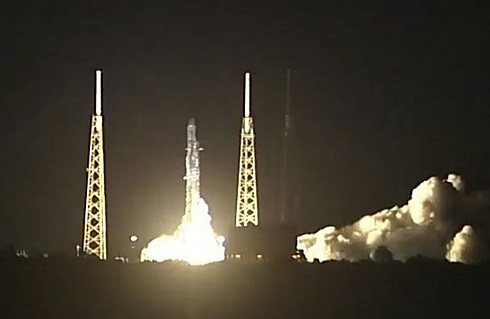 Slightly bigger than a basketball, the round, 3D-printed German Space Agency robot will assist German astronaut Alexander Gerst with science experiments. IBM provided the AI brain. Cimon will remain indefinitely on the orbiting lab, continually getting updated via IBM's Cloud.
Aiming to lower launch costs by reusing rockets, SpaceX did not retrieve the booster for another flight and, instead, ditched it in the Atlantic. The company is switching to a new and improved line of boosters.
The space station and its six inhabitants were sailing 250 miles above the South Pacific when the Falcon 9 took off.