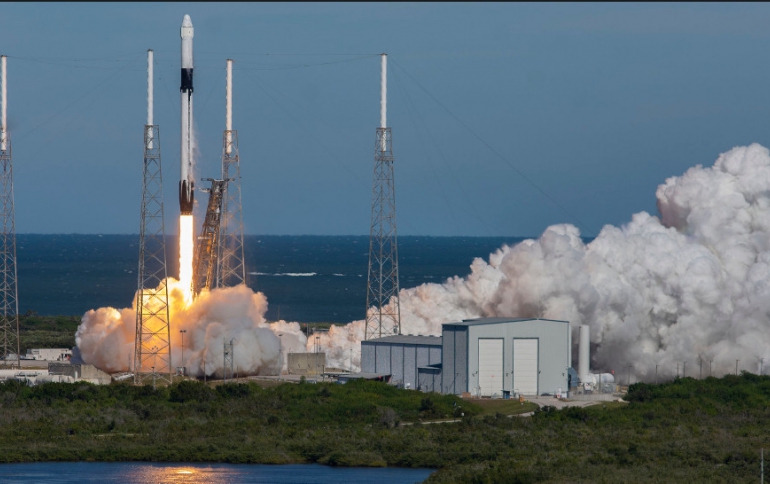 SpaceX Launches Another Rocket, But Landing Didn't Go As Planned
SpaceX has successfully launched its 20th rocket of the year, a mission taking supplies to the International Space Station (ISS), but the landing wasn't quite as successful.
The company's sixteenth Commercial Resupply Services mission (CRS-16) launched at 1.16pm Eastern time (6.16pm UTC) today from Space Launch Complex 40 (SLC-40) at Cape Canaveral Air Force Station, Florida. Dragon separated from Falcon 9's second stage about 10 minutes after liftoff and will attach to the space station on Saturday, December 8.
Following stage separation, SpaceX attempted to recover Falcon 9's first stage on Landing Zone 1 (LZ-1) at Cape Canaveral Air Force Station, Florida, about eight minutes after launching. However, the landing appears to have experienced some problems, with the rocket instead hitting the ocean rather than landing on the ground.
Video footage from just before the landing attempt showed the first stage spinning out of control, with one of its grid fins that it uses to steer itself seemingly out of position. SpaceX later confirmed the booster had performed a "water landing", rather than making it to the landing pad.
"Grid fin hydraulic pump stalled, so Falcon landed just out to sea," CEO Elon Musk wrote on Twitter. "Appears to be undamaged & is transmitting data. Recovery ship dispatched."
Dragon was filled with more than 5,600 pounds of supplies and payloads, including critical materials to directly support more than 250 science and research investigations that will occur onboard the orbiting laboratory.
Dragon will return to Earth with about 4,000 pounds of cargo after an approximately five-week stay at the International Space Station. About five hours after Dragon leaves the space station, it will conduct its deorbit burn, which lasts up to 10 minutes. It takes about 30 minutes for Dragon to reenter the Earth's atmosphere and splash down in the Pacific Ocean off the coast of Baja California.
SpaceX is contracted in total for 26 missions to the ISS, and next year they are set to begin not just crewed flights, but human flights too.