Swiftech Apex Ultra H20-220
5. Test Configuration
In order to test the SwifTech Apex Ultra H20-220 water cooling system, we used the following system setup:
CPU: Intel E6750 Retail
Case: ThermalTake Soprano
Motherboard: Asus Blitz Extreme Bios 0904
Memory: 2x1GB SuperTalent DDR3-1600CL7
PSU: Corsair HX620W, OCZ 720W
HDD: WD 80JB
Operating system Windows XP with all the latest updates installed
Software: Intel Thermal Analysis Tool (TAT) & CoreTemp 0.95.4
Thermal Paste: Arctic Cooling TX-2
Idle time: ~30min
Load time: ~30min
Case fan rpm: 1250 rpm (full speed)
To to produce the most possible heat, we used Intel's Thermal Analysis Tool (TAT) that offers much higher heat, compared with Prime95 (3~4° C more). This has been mentioned at several online forums and it was also confirmed in our tests.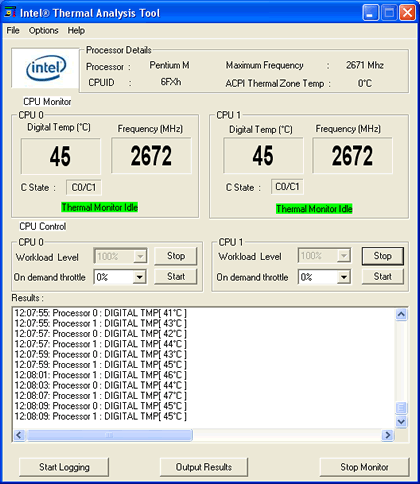 We left both cores running at full load for almost 30 minutes. All temperatures were logged with CoreTemp 0.95.4. On the Asus Blitz Extreme, we set the same voltages in order to have the same conditions for all coolers:
PLL Voltage: 1.60V
DDR3 Voltage: 1.90V
Vcore: 1.3375V (normal)
Vcore: 1.4500V (overclock)
We measured the produced noise from all CPU coolers with Precision Gold N09AQ Environment Meter. We decided to measure the noise with and without the two system 120mm fans (by Thermaltake) and of course the noise that the power supply produces. All measurements were made just outside the case, mostly on the side panel and at the front, so we had an overall picture of the produced noise. To better understand the overall performance, we also used the included adapters from 12V-7V and from 12V-5V and recorded the corresponding temperatures.
For all CPU coolers, we used the same thermal paste from Arctic Cooling TX-2. We tried to apply the same amount of thermal paste and in an identical way. All in all, we tried to provide exactly the same environmental conditions for all tested CPU coolers. It's possible, due to Vdroop (Vcore variations), to have 1~2° C differences in performance from system to system. Lastly, all tests were performed with the front panel closed, which should give the worst case in terms of internal air flow.