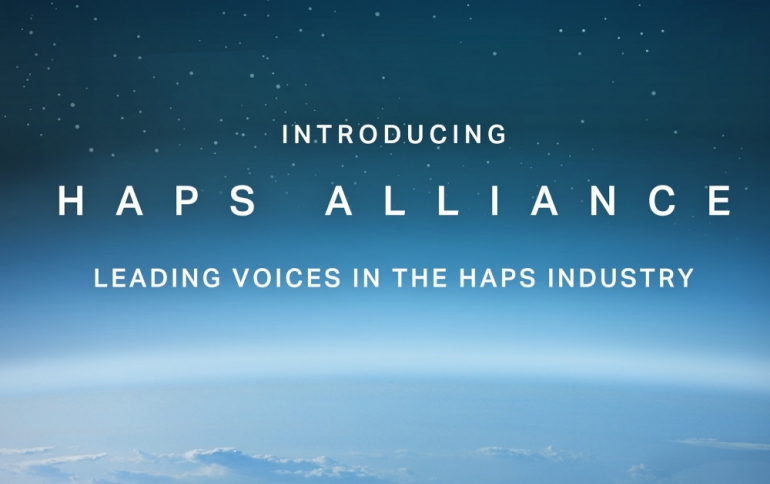 Telecom, Technology, and Aviation Companies Join forces to Create the HAPS Alliance
A group of global industry leaders today announced that they are forming the HAPS Alliance, an association of telecommunications, technology, aviation, and aerospace companies that are united in promoting the use of high altitude vehicles in the Earth's stratosphere to bring connectivity to more people, places, and things worldwide.
Members who have committed to join the HAPS Alliance include SoftBank Corp.'s HAPSMobile Inc., Alphabet's Loon LLC, AeroVironment, Inc., Airbus Defence and Space, Bharti Airtel Limited, China Telecom Corporation Limited, Deutsche Telekom AG, Telefonaktiebolaget LM Ericsson, Intelsat US LLC, Nokia Corporation, SoftBank Corp., and Telefónica S.A.
The HAPS Alliance is being created so member companies can collectively advocate for High Altitude Platform Station (HAPS) business development with the relevant authorities in various countries, build a cooperative HAPS ecosystem, develop common product specifications and promote the standardization of HAPS network interoperability. All of these activities will be key to the Alliance's aim of addressing diverse social issues and provide telecommunications network connectivity worldwide through the utilization of high altitude vehicles. The Alliance, originally an initiative from HAPSMobile and Loon, will have members from participating companies across the aerospace, technology and telecom industries to carry out the Alliance's activities.
The launch of the HAPS Alliance follows a previous April 2019 announcement between HAPSMobile and Loon where the companies formed a strategic alliance to advance the use of high altitude vehicles.
High altitude network connectivity platforms operate in the stratosphere, which is above ground infrastructure, but below satellites, allowing for near ubiquitous coverage that avoids ground clutter and significant latency issues. These advantages make such vehicles a promising solution for expanding mobile coverage to areas where connectivity is lacking — such as mountainous terrain, remote islands, marine regions and developing countries — as well as for IoT and 5G use-cases.
Junichi Miyakawa, Representative Director & CTO of SoftBank Corp., and also President & CEO of HAPSMobile said, "We are very encouraged that many leaders from across the communications and aerospace industries are joining us in our mission to bridge the digital divide with high altitude vehicles. Together with our Alliance partners, we will lay the groundwork for an ecosystem that fosters HAPS connectivity solutions around the world."
Loon's CEO Alastair Westgarth said, "The stratosphere represents an enormous opportunity to bring the benefits of connectivity to more people around the world. But we will only be successful in harnessing the potential of the stratosphere if we come together to advocate for and collaborate on the technologies that will make this possible. This HAPS Alliance is an important step forward in building an established industry that will help us realize the promise of the stratosphere to connect people everywhere."
The backing is a vote of confidence in the technology after Alphabet this month shut down another of its big bets, Makani, which aimed to generate wind energy with kites, in a move widely seen as signaling pressure from CEO Sundar Pichai for unproven businesses like Loon to start delivering results.
Alphabet's Loon has already struck deals with wireless carriers in Kenya and Peru. Such technology allows telcos to extend coverage into hard-to-reach areas where there is low population density or geographical obstacles like mountains and maintain service after disasters.
SoftBank Corp's HAPSMobile aims to commercialize its services in 2023 and has been conducting low altitude test flights of its drones, which have a wingspan of almost 80 meters (87.49 yards), from a NASA facility in California.
The solar-powered HAWK30 drone can currently only stay airborne all year round at latitudes of plus or minus 30 degrees from the equator, constraining its ability to operate in northerly countries like United States and Japan - although a planned future device will extend that to 50 degrees.