Toshiba Introduces 7mm Solid State Hybrid Drive
Toshiba is bringing the slim, MQ01ABFH solid state hybrid drive (SSHD) series for ultrabooks. Equipped with Toshiba's NAND flash and available in 500GB and 320GB capacities, the MQ01ABFH series is the first Toshiba SSHD drive family in 7 mm. The series is afdded to Toshiba's lineup of 2.5-inch solid state hybrid drives with the previously announced 1TB and 750GB MQ01ABDH series 9.5mm SSHDs for ultrathin and thin and light notebook PCs.
Toshiba optimized the NAND flash performance into a tiered-storage approach that uses the speed of the DRAM and NAND components with the high-capacity of rotating media. The SSHD delivers SSD-like performance without dependence on external drivers or assistance from the host system. The PCMark Vantage Average HDD Score for the MQ01ABF500H is approximately 20,000.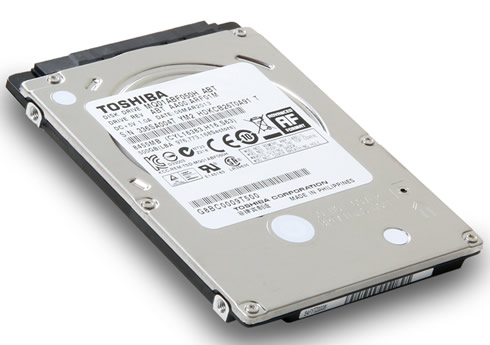 Similar to Toshiba's other SSHD offerings, the 7mm model uses self-learning algorithms to optimize performance based on users' data access patterns. The self-learning, caching algorithms manage what data is stored in the NAND flash storage for the fastest responsiveness, as well as how the data in the drive is updated based on intelligent access pattern learning.
Toshiba's new 500GB1 MQ01ABF050H model and 320GB MQ01ABF032H model will be featured in various notebook PCs. Samples will be available by Toshiba from June 28.
 
 
MQ01ABF032H
MQ01ABF050H
 
Drive Capacity
320GB
500GB
 
NAND Technology
8GB
 
Drive Interface
Serial ATA 3.0 (ATA-8)
 
Number of Platters (disks)
1
 
Transfer Rate to Host
6 Gb/sec
 
Maximum Areal Density
746Mb/mm²
(553.6Gb/in²)
1.15Gbmm²
744Gb/mm²
 
Average Seek Time
12ms
 
Rotational Speed
5,400 RPM
 
Buffer Size
32 MiB**
 
PC Mark Vantage Score
20K
 
Dimensions (W) x (D) x (H)
69.85 mm x 100.0 mm x 7.0 mm
 
Weight
92 g (max)
 
Shock - Operating
3,920m/s² (400G) 2ms
 
Shock - Non-Operating
8,820m/s² (900G) 1ms
 
Acoustics (idle)
19 dB
 
Acoustics (seek)
21 dB
21dB
 
Limited Warranty
3 Years (from date of purchase)