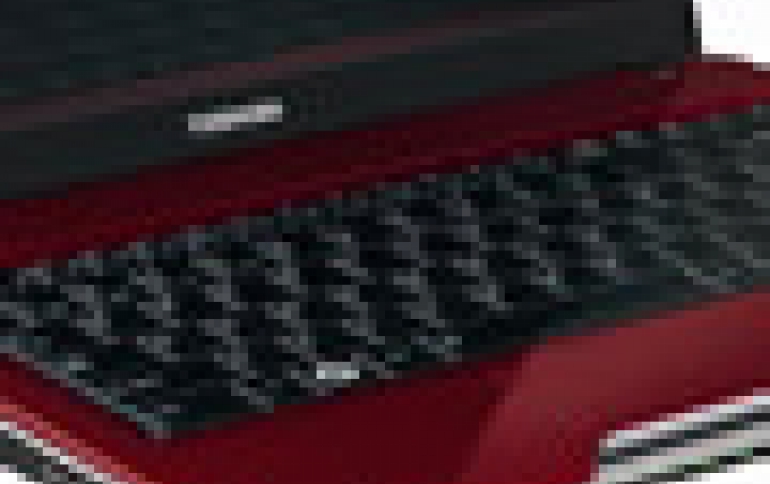 Toshiba Introduces Intel CULV Laptops
Toshiba UK today announced the Satellite T110 and T130 - the first Toshiba laptops to feature Intel CULV (Consumer Ultra Low Voltage) processors, designed to offer the performance and functionality of full-sized laptops with portability and a battery life of up to eleven hours. The T130 is available with a 13.3" screen, whilst the smaller T110 offers an 11.6" alternative. The T130 will be available in the Satellite Pro range for business users.
Only 22.2mm at its thinnest point and a mere 1.58kg in weight, the slender, tapered chassis of the Satellite T-series features an elegant, subtle pattern design - available in a choice of Black, Red Metallic and White Pearl (model dependent) - that continues inside the laptop, around the keyboard, screen and display.
The Satellite T130 is available with the choice of Intel Pentium, Intel Single Core or Intel Celeron Single Core ultra low voltage processors, and the Satellite T110 has the option of either an Intel Pentium or Intel Celeron Single CoreT ultra low voltage processor.
The ultra low voltage CPU allows for a much longer average running time between charges whilst still providing the processing power necessary for resource tasks such as word processing or image editing, with consumers able to enjoy up to eleven hours use on a single charge. Up to 4GB DDR3 (800MHz) of RAM and up to 500GB of hard disk drive space allow consumers the flexibility to keep their important files with them and run several programs simultaneously.
Mobile working on the Satellite T130 and T110 is made even easier by the inclusion of an LED backlit 16:9 widescreen featuring a resolution of 1366 x 768, at screen sizes of 13.3" and 11.6" respectively. Meanwhile, both models feature Toshiba's 3D sensor for HDD protection, which detects free falls, shock or vibration and locks down the hard drive to prevent the loss of valuable data.
The Satellite T-series also features Toshiba's gesture support. A multi-touch control pad enables users to pinch, zoom, swipe and rotate objects simply by moving their fingers. An integrated webcam makes video conferencing and web chats simple, and with Toshiba's Face Recognition technology, it is possible to access files by simply looking into the camera - no need for passwords.
Toshiba's Eco-Utility tool - a software application, developed by Toshiba - allows users to monitor how much energy their laptop is using and reduce the energy consumption by up to 25% in idle mode.
The Satellite T110 and T130 laptops offer a wide range of connectivity options including integrated Wi-Fi 802.11 b/g/n and Bluetooth 2.1 connectivity. Furthermore, all Satellite T-series laptops provide three USB 2.0 ports with Toshiba's Sleep-and-Charge technology allowing multiple devices to charge even when the laptop is switched off. An HDMI port on all versions also allows users to connect to high definition television sets.
Available from late October, TPPs starting from £429.
Satellite T110
Intel Pentium or Intel Celeron Single CoreTM ultra low voltage processor
Up to 3GB (DDR3)
250GB HDD
11.6" LED Backlit 1366 x 768 Screen
Integrated Wi-Fi 802.11b/g/n
Integrated Web Camera with Face Recognition
3 x USB 2.0 Sleep and Charge, 1 x HDMI
1.58kg
Available in Precious Black or Iron Red Metallic
Satellite T130
Intel Pentium, Intel Single Core or Intel Celeron Single Core ultra-low-voltage processor
Up to 4GB (DDR3)
Up to 500GB HDD
13.3" LED Backlit 1366 x 768 Screen
Integrated Wi-Fi 802.11b/g/n
Integrated Web Camera with Face Recognition
3 x USB 2.0 Sleep & Charge, 1 x HDMI
1.76kg
Available in Precious Black, Iron Red Metallic or Luxe White Pearl
Satellite Pro T130
Intel Celeron Single Core or Intel Core 2 Duo ultra-low-voltage processor
Up to 4GB (DDR3)
Up to 320GB HDD
13.3" LED Backlit 1366 x 768 Screen
Integrated Wi-Fi 802.11b/g/n
Integrated Web Camera with Face Recognition
3 x USB 2.0 Sleep & Charge, 1 x HDMI
1.76kg
Available in Precious Black